Last order date is midday on  Monday 18th December 2023. All turkeys will be delivered fresh from the farm on Thursday 21st December 2023.  Any other items will be delivered on the date selected at...
Read more
Regular price
Product Code: TUJH4
Regular price
£0.00
Sale price
£100.00
Unit price
per
Sale
4 kg (Serves 4-6) -

£100.00
View full details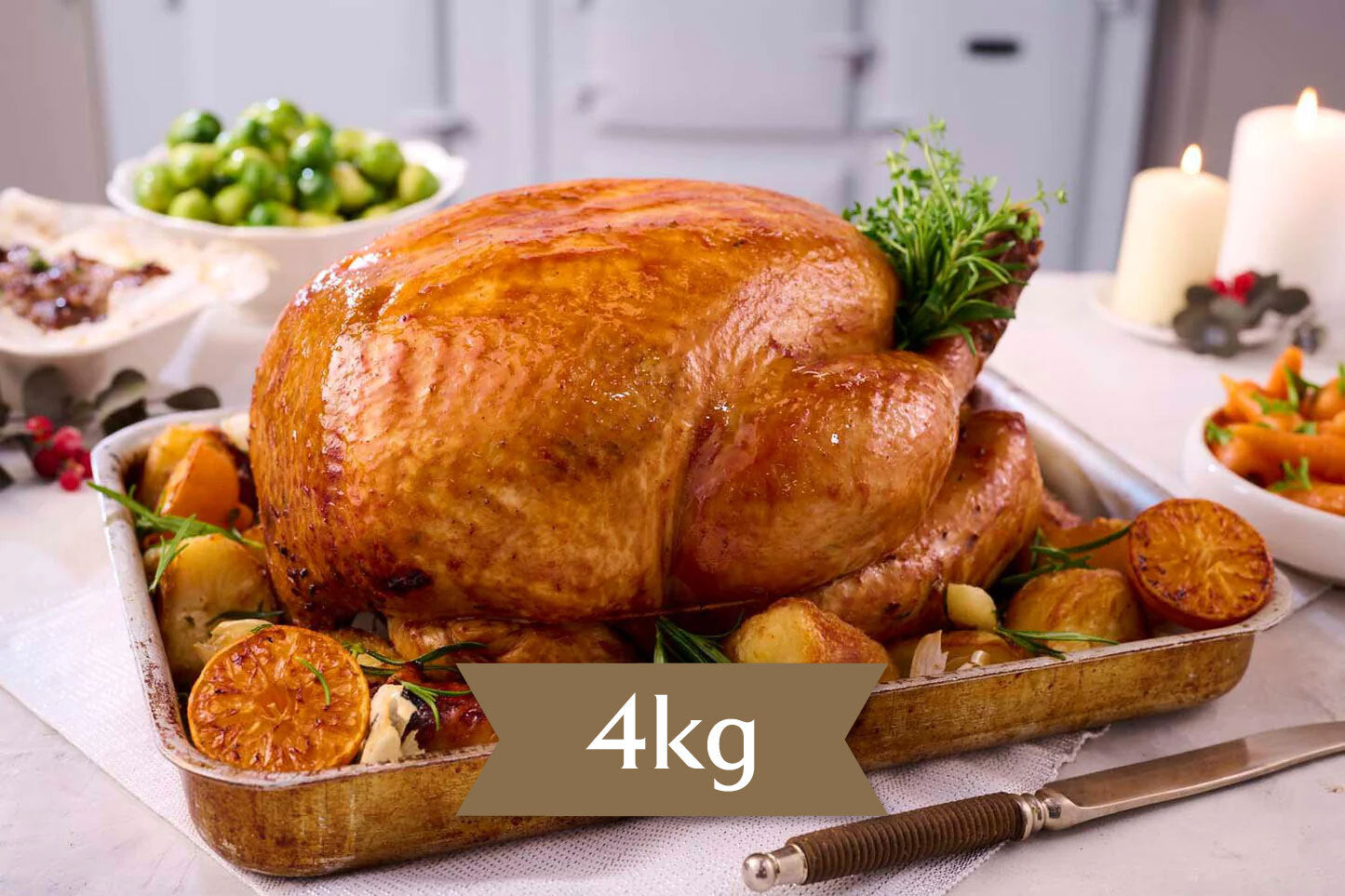 Collapsible content
PRODUCT DESCRIPTION

Last order date is midday on  Monday 18th December 2023. All turkeys will be delivered fresh from the farm on Thursday 21st December 2023.  Any other items will be delivered on the date selected at checkout. 


Our outstanding free range bronze turkeys are sourced from third-generation turkey farmers who have been rearing turkeys for forty years. The turkeys roam freely in grassy paddocks and meadows of the family farm. They are fed a natural cereal-based diet consisting of wheat, soya bean, barley, rape seed extract, minerals, and natural herbs; free from antibiotics and growth promoters.

We are proud to work closely with our turkey suppliers who care about the welfare of their turkeys ensure their natural North American habitat is replicated as much as possible. To that end, all their birds, roam freely in the grassy paddocks and meadows of the farm from eight weeks of age, to allow a happy and natural lifestyle. They have a large area of woodland, which the birds love to wonder around in – and it provides a huge amount of stimulus. Turkeys love to explore their surroundings, playing in dust baths and roosting on straw bales, low branches and fences. At night they take themselves off to bed on the deep straw beds in the barns and field shelters, where they go for warmth and protection, away from the elements and with a constant supply of fresh food and water. We carefully select suppliers who believe in traditional farming techniques of slow growing turkeys to gain maximum flavour. The turkeys are plucked by hand to avoid the negative effects on the quality of the bird associated with wet plucking. During wet plucking the entire bird is dipped in hot water, which contains high bacteria levels. Turkeys are game birds and as such they need to be hung to achieve maximum taste and flavour. All of our birds are hung for a minimum of 7 days.

Comes complete with a pop-up timer, cooking instructions and giblets.
COOKING INSTRUCTIONS

Make sure you have an oven and roasting tin that are big enough for your bird, with room for all the fat and cooking juices. Use the weight of your bird to get your timings right, leaving plenty of time for your turkey to rest when it comes out of the oven. If you are stuffing your bird, you need to include the weight of stuffing into your calculations. We recommend just stuffing the neck cavity, restricting the body cavity to a few aromatics such as a halved onion and a few sprigs of thyme or sage. It's best to let it rest for an hour at least, but a large bird could easily rest for an hour and a half, leaving plenty of time to get on with roasting the potatoes. We include a handy pop-out timer with every turkey. Insert your timer at a point approximately 3cm to the right or left of the front tip of the breastbone. The timer should not touch any bone. The timer and cooking times below are for guidance only, as all ovens vary. Pre-heat your oven to 180°C/350°F/gas 4 for at least 20 minutes. 4-5kg – cook 2¼ to 2½ hours , 5-6kg – cook 2½ to 3 hours , 6-7kg – cook 3 hours to 3½ hours 7-8kg – cook 3½ to 4 hours , 8-9kg – cook 4 to 4¼ hours.Get your turkey out of the fridge at least 30 minutes before you cook it; a stone-cold bird will take longer to cook. Place some vegetables (onions, carrots etc.) in the roasting tray under the bird to enrich the turkey juices for fantastic gravy. There is no need to use foil, but it can help to roast the bird breast side down at first, turning it over for the final hour to get the turkey nicely browned. Roast your bird for the calculated time, or until the pop-out timer pops. if using a digital thermometer, we recommend cooking to an internal temperature of 65ºC, as the bird will continue to cook after removing from the oven. To be completely safe, check that the juices run clear when you pierce the thigh with a skewer. Do not overcook your turkey; it should be moist and succulent. Once cooked, lift the turkey out of the tray and rest on a carving board, covered loosely with foil, for at least an hour while you get on with the finishing touches to the rest of your meal.
INGREDIENTS & NUTRITION

Ingredients

Free Range Turkey

| Typical Nutritional Information | Per 100g |
| --- | --- |
| Energy KJ | 560 |
| Energy kcal | 133 |
| of which saturates | 1.7 |
| Carbohydrate | 1 |
| of which sugars | 1 |
| Protein | 21.6 |
| Salt | 0.07 |
STORAGE

Store in the refrigerator 0 - 4°C. Suitable for freezing, use within 3 months of freezing.