200g bacon, chopped
Regular price
£0.00
Sale price
£7.50
Unit price
per
150g Cheddar cheese, grated
Regular price
Sale price
£19.99
Unit price
per
350g potatoes, peeled and diced (1" chunks)
2 onions, peeled and roughly chopped
freshly ground black pepper
Lunch
BACON, CHEESE & POTATO TART
I used to make this Bacon, Cheese & Potato Tart a lot when my children were little, and I remember it being really popular with all my lunchtime pals as well. Simply serve with a watercress salad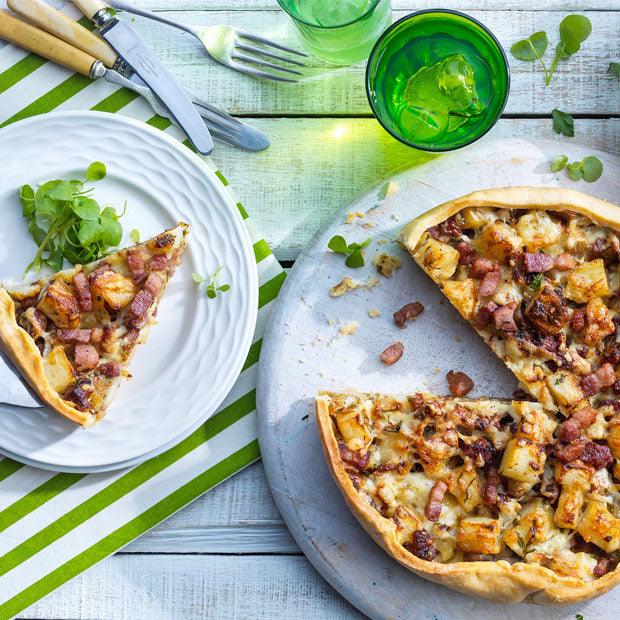 Directions
Step 1 Pre heat the oven to 220°C / 200'C fan/gas mark 7.
Step 2 Roll out the pastry and use to line a 24cm flan or cake tin.
Step 3 Boil the potatoes until tender, approximately 10 mins. Drain and transfer to a bowl.
Step 4 Heat a heavy based pan over a high heat and cook the bacon in 1 tbsp olive oil until crispy. Remove from the pan and add to the potatoes.
Step 5 Using the same pan turn the heat down to a low heat, add another 1 tbsp olive oil to the pan and sauté the onions in the bacon fat & oil until really soft, then add to the potatoes.
Step 6 Finally stir through the butter, half the cheese, parsley, garlic, cream, and seasoning.
Step 7 Fill the pastry case. Sprinkle with the remaining cheese and bake for 20 minutes, until golden.