200g bacon, chopped
Regular price
£0.00
Sale price
£7.50
Unit price
per
1 small sweet potato peeled and diced
1 small courgette, sliced
2 medium onions, thinly sliced
8 thyme sprigs, remove leaves & discard stalks
8 cherry tomatoes, halved
freshly ground black pepper
Dinner
BACON & ROASTED SUMMER VEGETABLE TART
Taken from my Mother's repertoire, this tart is a delicious and nutritious dish! One thing we all appreciate is how good a cook she is. This is one of her go to recipes which gets top marks every time, to which I have added bacon.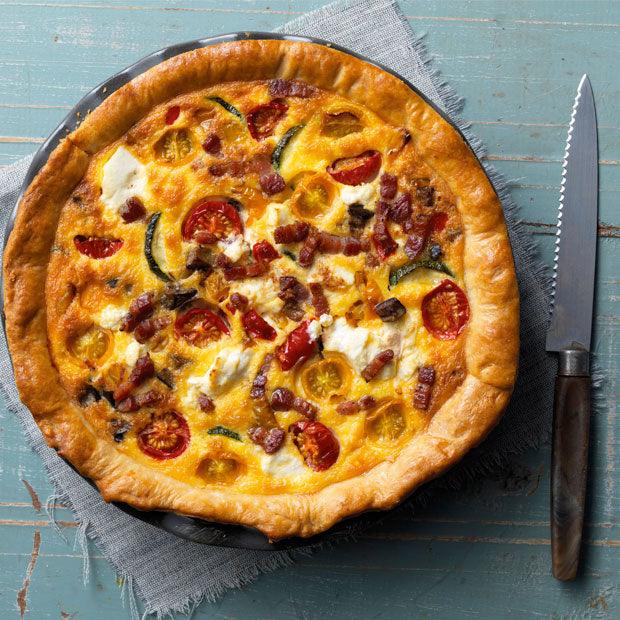 Directions
Step 1 Pre heat oven to 200'C/180'C fan.
Step 2 Put all the vegetables (except the onion and tomatoes) in a roasting tray with the olive oil, toss and roast for 40 minutes.
Step 3 Take a 12"/30cm wide quiche tin and roll out the pastry to line, curling the pastry over the edge. Line with greaseproof and tip some cooking beans onto the greaseproof to hold the pastry down during cooking. Pop into the oven for 10 mins.
Step 4 Remove the beans and the greaseproof and push the pastry back into shape if it has shrunk down too much. Pop back into the oven and bake blind for a further 10 mins.
Step 5 Meanwhile dry fry the bacon in a heavy based pan over a medium high heat for 5mins until crisp and golden. Transfer to the pastry case.
Step 6 Using the same pan reduce to the lowest heat, add a splash of olive oil, the onions and bay leaves and very gently sauté for 10-15 mins.
Step 7 Discard the bay leaves and scatter the onion over the pastry, top with the roasted vegetables, thyme and tomato halves, crumble the feta and spoon the ricotta over the top.
Step 8 Whisk the eggs with the cream and seasoning and slowly pour into the tart case.
Step 9 Pop back in the oven and bake for 35-45 minutes until the filling sets.