1 large chicken or 2 small guinea fowl/pheasants
Regular price
£0.00
Sale price
£21.00
Unit price
per
200g bacon, chopped
Regular price
£0.00
Sale price
£7.50
Unit price
per
10g/¼oz dried porcini mushrooms, soaked in 30ml boiling water
200ml dry sherry (I use pale dry amontillado sherry)
200g/7oz chestnut mushrooms, sliced
4 tbsp full-fat crème fraîche
Dinner
BRAISED CHICKEN WITH PORCINI, BACON & LENTILS
If like me you have a tendency to turn into a guest at your own dinner parties then this dish of Braised Chicken with Porcini, Bacon and Lentils is the perfect solution, as it can be left to gently cook for 1-2 hours before serving. All you then have to do is rest the meat, carve and simply add crème fraiche to the lentil mixture. No more missing out on the fun! This can be made using pheasant or guinea fowl in the place of the chicken. The magical combination of the porcini mushrooms, sherry and bacon create a wonderfully rich flavour.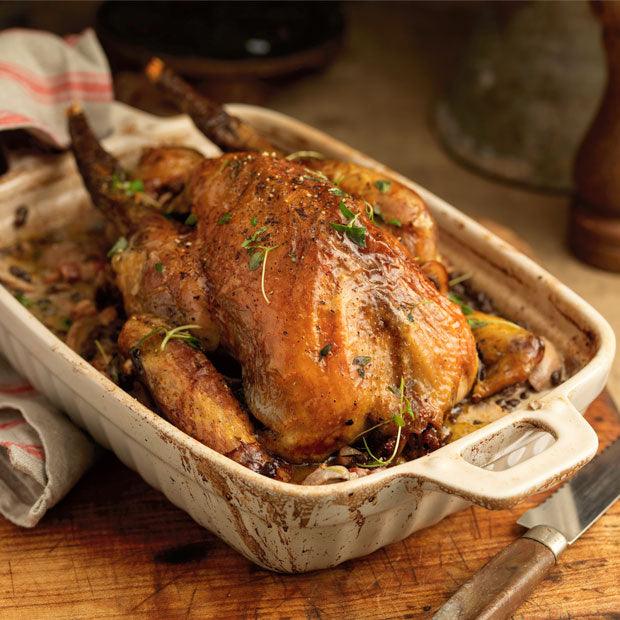 Directions
Step 1 Season and sauté chicken in oil and butter in heavy based pan till golden brown.
Step 2 Remove from pan and set aside.
Step 3 Sauté bacon till crisping, then add the chestnut mushroom and cook for a further 5 mins.
Step 4 Add thyme, sherry, stock and lentils and soaked porcini plus soaking liquid. Place chicken on top and put lid on and transfer to oven for min 1 hour preferably 2 hours at 170'C, fan 150'C until cooked through.
Step 5 Remove from oven and let the chicken stand to rest for 10 mins covered with foil.
Step 6 Stir crème fraîche through the lentil mixture.
Step 7 Carve chicken and pour lentil mixture over and serve with Cavolo Nero leaves.