4 skin on DukesHill Chicken Thighs (or 2 chicken legs)
Regular price
£0.00
Sale price
£7.95
Unit price
per
30g fresh coriander, leaves and stalks chopped
30g fresh mint, leaves chopped
1 inch fresh root ginger, peeled and chopped
3 green chillies, deseeded and chopped finely
1 ½ limes, juice and zest
Lunch
CORIANDER & LIME CHICKEN
This marinated chicken is great either baked in an oven or cooked on the BBQ. Served with a colourful fragrant pilau rice and coriander and mint yoghurt it makes the perfect summer dish for entertaining, packed full of fresh green herbs and spices.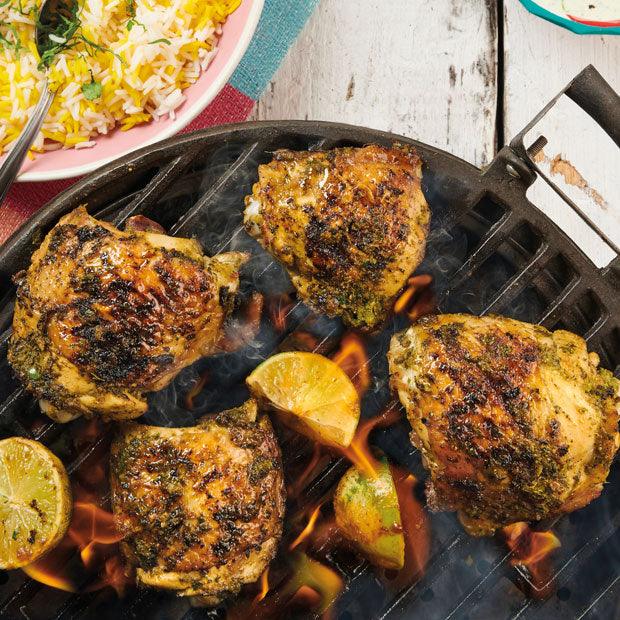 Directions
Step 1 Dry fry the coriander seeds over a medium to high heat for 1-2 minutes until fragrant. Crush them using a pestle and mortar, then pour them into a liquidiser with the coriander stalks, cumin, ginger, chillies, 2 tbsp olive oil, salt and juice of 1 lime. Whizz until smooth, then use to coat the chicken in an ovenproof dish. Cover and leave to marinade for a minimum one hour, but preferably overnight.
Step 2 In the same liquidiser blend the coriander leaves, mint leaves, yoghurt and juice of ½ lime. Season to taste and sprinkle the zest of ½ lime over the top.
Step 3 Either fire up the BBQ or pre heat the oven to 190°C/170°C fan/gas mark 5.
Step 4 Remove the dish with the marinated chicken from the fridge 30 minutes before cooking. Drizzle with 1 tbsp olive oil. Cook in the oven uncovered for 35-45 mins until cooked through.
Step 5 If bbq'ing then either part cook in the oven for 20 mins and finish off on the BBQ for the last 20 mins or cook for the full 35-45 mins on the BBQ until cooked through. Allow to rest for 5 mins.
Step 6 Serve the chicken with a fragrant pilau rice and the coriander and mint yoghurt alongside.