100g sliced ham, torn (or ham hock shredded)
Regular price
£0.00
Sale price
£4.50
Unit price
per
75g Comté cheese, grated
Regular price
£0.00
Sale price
£9.50
Unit price
per
500g block shortcrust pastry
freshly ground black pepper
Lunch
HAM & ASPARAGUS TART
My ham & asparagus tart is enhanced by the Dijon mustard and nutmeg in this creamy egg tart. When baking the pastry case, I always tend to roll the raw pastry out so there is enough to curl over the edge of the baking/quiche tin. This stops it from shrinking down the sides during the blind baking. I then break off the excess cooked pastry just before serving, which gives it a lovely rough, rustic appearance.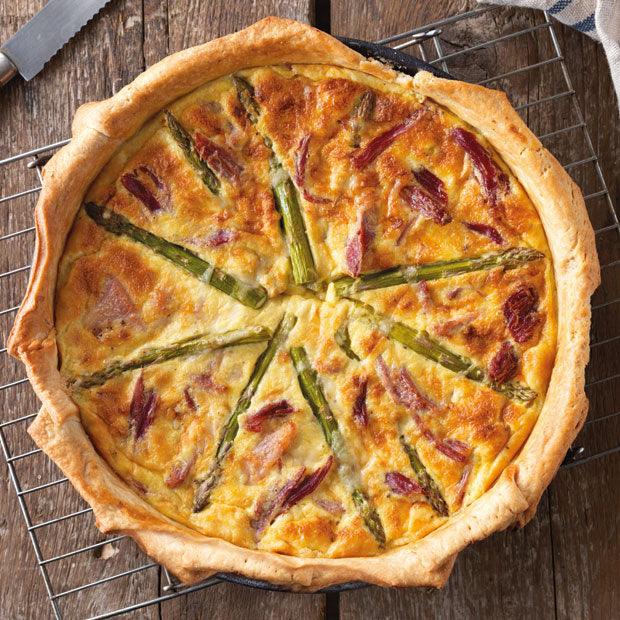 Directions
Step 1 Pre heat the oven to 200'C/180'fan.
Step 2 Take a 12"/30cm wide quiche tin and roll out the pastry to line, curling the pastry over the edge. Line with greaseproof and tip some cooking beans onto the greaseproof to hold the pastry down during cooking. Pop into the oven for 10 mins.
Step 3 Remove the beans and the greaseproof and push the pastry back into shape if it has shrunk down too much. Pop back into the oven and bake blind for a further 10 mins.
Step 4 Meanwhile blanch the asparagus tips for 2 minutes in boiling water. Refresh under the cold tap, drain then toss in the olive oil and ¼ tsp sea salt and some black pepper.
Step 5 Put the torn or shredded ham over the base, sprinkle the grated Comte cheese over the ham.
Step 6 Using a fork mix the double cream with the eggs, nutmeg, Dijon mustard and the rest of the seasoning and pour evenly over the cheese. Top with the asparagus tips arranged in whatever pattern you like.
Step 7 Put back in the oven for a further 15 minutes, then remove and allow to cool for 10 minutes before serving with a side salad.