1 or two slices of DukesHill Ham of choice (we used York ham)
Regular price
£0.00
Sale price
£7.00
Unit price
per
A dollop of Boxing Day Chutney
Regular price
£0.00
Sale price
£4.50
Unit price
per
750g of leftover roast potatoes
250g of leftover cooked Brussel sprouts
Breakfast
HAM, EGG, BRUSSELS & SQUEAK
Whiz up a luxury boxing day brunch using Christmas day left overs - topped with a perfectly runny egg and of course the finest DukesHill Traditionally Cured Ham.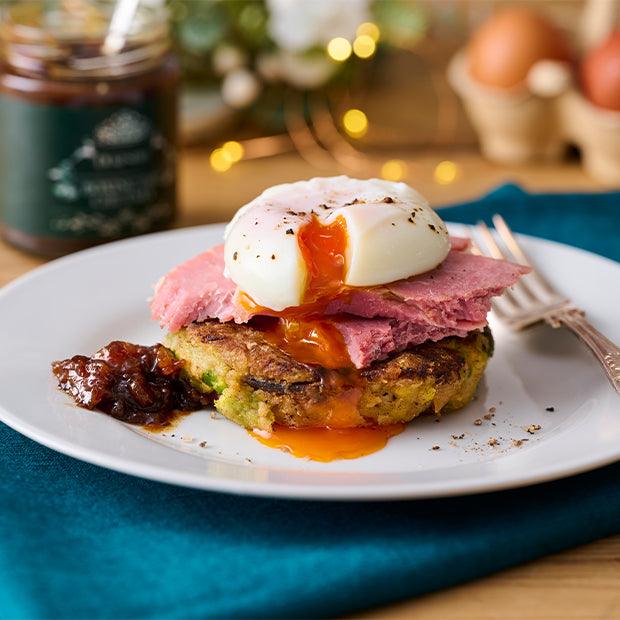 Directions
Step 1 Finely dice one small onion and cook on low heat in butter until soft and allow to cool.
Step 2 Take 750g of leftover roast potatoes and blitz in a food processor until broken down into small pieces but retaining some texture.
Step 3 Take 250g of leftover cooked brussel sprouts and finely chop.
Step 4 Put onion, potato and brussels in a mixing bowl and combine, adding salt, pepper and nutmeg.
Step 5 Form into six patties and dust each in flour.
Step 6 Then fry in olive oil or duck fat till well coloured on both sides.
Step 7 Cut a thick slice of leftover DukesHill Ham of choice.
Step 8 Put a pot of water on a very low simmer, add a splash of cider vinegar and swirl water with a wooden spoon.
Step 9 Take a very fresh egg, pour off excess white, then put in teacup before sliding into the water...remove once white is firm and yolk still runny, dry with kitchen towel, trim and season, place on ham slice.
Recipe Note
Serve with a dollop of our deliciously rich Boxing Day Chutney for the ultimate artisan brunch and Enjoy!