50g streaky bacon, chopped
Regular price
£0.00
Sale price
£15.00
Unit price
per
2 pork chops
Regular price
£0.00
Sale price
£10.95
Unit price
per
freshly ground black pepper
1 unwaxed lemon, zest and juice
10g fresh sage leaves, chopped
2 onions, peeled and sliced
400g tin butter beans (or jar), rinsed and drained
400ml chicken or veg stock
4 slices toasted sourdough (or ciabatta)
Dinner
LEMON & HERB PORK CHOPS WITH BUTTERBEANS ON TOAST
My daughter Lucy made this Lemon & Herb Pork Chops with Butterbeans on Toast dish for me, and I have to say it is absolutely delicious. The combination of the herbs and garlicky beans with the pork chops and the sublime juice soaked toasted sourdough is sheer heaven on a plate for me.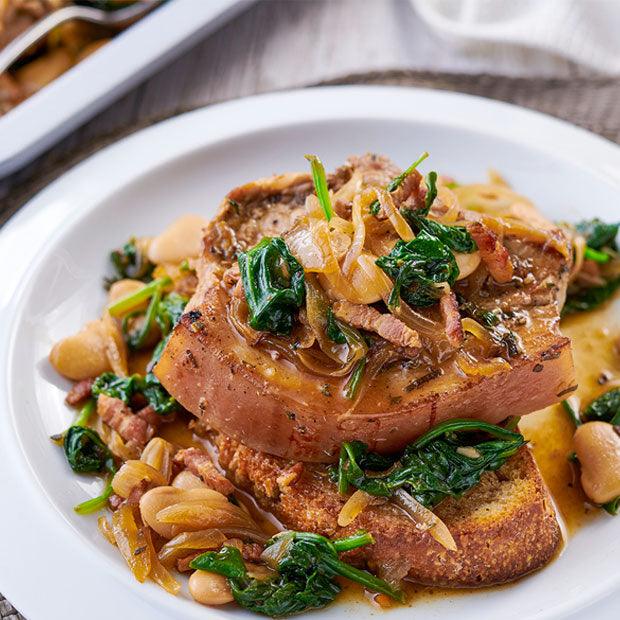 Directions
Step 1 Heat oven to 200°C/180°C fan/gas mark 5.
Step 2 Mix the lemon zest and lemon juice with the chopped sage, one crushed garlic clove, seasoning and 1tbsp olive oil and rub all over the chops. Preferably leave to marinate for one hour.
Step 3 Heat the remaining 1 tbsp olive oil in a heavy based pan over a high heat and brown the chops for 3 mins on each side. Remove the chops and add the onions and pancetta for 3 minutes, stirring often.
Step 4 Reduce the heat to low and add the thyme and two thinly sliced cloves of garlic and continue to cook for a further 5 minutes.
Step 5 Return the chops to the pan and cover with the onion and pancetta mixture. Pour over the stock and beans, bring to the boil then remove to the oven for 50 minutes and cover with baking parchment or a lid. Add the spinach for the last ten minutes.
Step 6 Rub the toasted sourdough with the remaining clove of garlic and cover with the beans and juice mixture allowing the toast to soak up the juices. Place a chop on top and serve.