400g Whole Monkfish Fillet 
100g DukesHill Sliced Lomo
Regular price
£0.00
Sale price
£7.00
Unit price
per
2 pinches of Cracked Black Pepper 
Dinner
MONKFISH FILLET, LOMO & PARMESAN CREAM SPINACH WELLINGTON
Prepare to indulge in an extraordinary culinary experience with our Monkfish Fillet, Lomo & Parmesan Cream Spinach Wellington. Succulent monkfish fillet, savoury Lomo, and luscious Parmesan cream spinach are enveloped in a golden pastry blanket, creating a masterpiece that will captivate your palate and redefine the meaning of gourmet dining.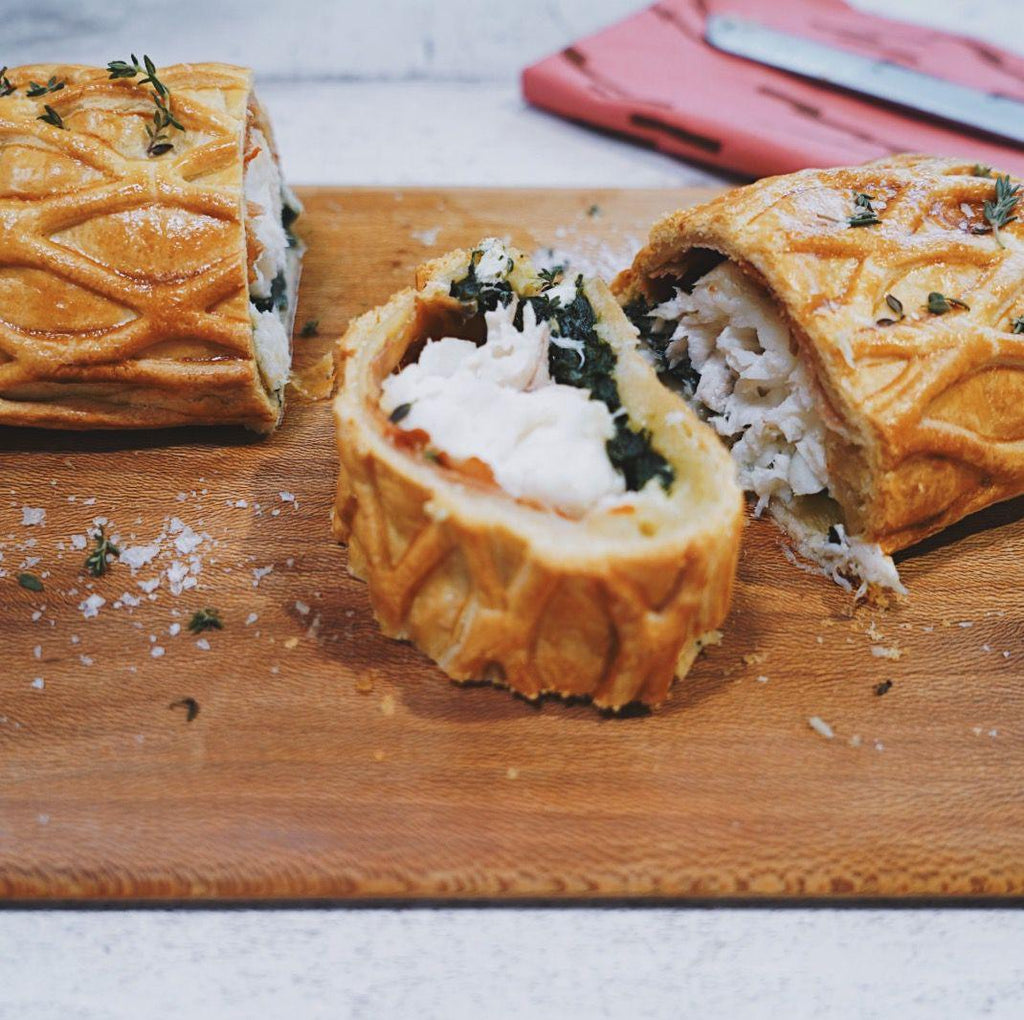 Directions
Step 1 On a medium heat, saute the garlic for 1 minute then add washed baby spinach. Cook for a further 30 seconds before adding nutmeg, salt and pepper, cream and parmesan. Cook until combined then leave to chill in the refrigerator.
Step 2 Season whole monkfish fillet with salt and Pepper, leave to one side.
Step 3 Lay out enough cling film to cover the monkfish fillet. Place lomo ham across cling film (vertically) leaving no spaces, 1 third from the bottom. Add spinach filling across lomo, then monkfish fillet. Gently roll over, making sure all the fillet is covered by the ham. Roll until tight and tie the ends. Refrigerate for 2 hours.
Step 4 Roll out your pastry base, Unwrap monkfish from cling film and place at the bottom of the pastry. Egg wash the edges and fold over until covered. Then egg wash the top.
Step 5 Cut remaining pastry into 1cm strips. Lie two strips over the center to make a cross, then lay strips along the wellington, working outwards. Slot the pastry lines over and under until you have a lattice pattern. Egg wash to finish.
Step 6 Bake at 180°C until golden brown. Leave to rest before serving, 4-5 minutes.