500g pork confit, diced 2cm cubes
Regular price
Sale price
£19.99
Unit price
per
2 parsnips, peeled and diced small
1 x 400g tin Borlotti beans
2 pears, peeled, cored and diced
3 sprigs thyme, leaves removed
3 sage leaves, finely chopped
freshly ground black pepper
Dinner
PORK CONFIT WITH PEARS & BORLOTTI BEANS
In cooking this Pork Confit with Pears & Borlotti Beans we have done all the hard work for you! Our bestselling pork confit made by slow cooking marinated pork belly here at Dukeshill is ready to use in this delicious and easy recipe. Even better this dish can be made ahead or frozen. Simply serve with rice, pasta or mash.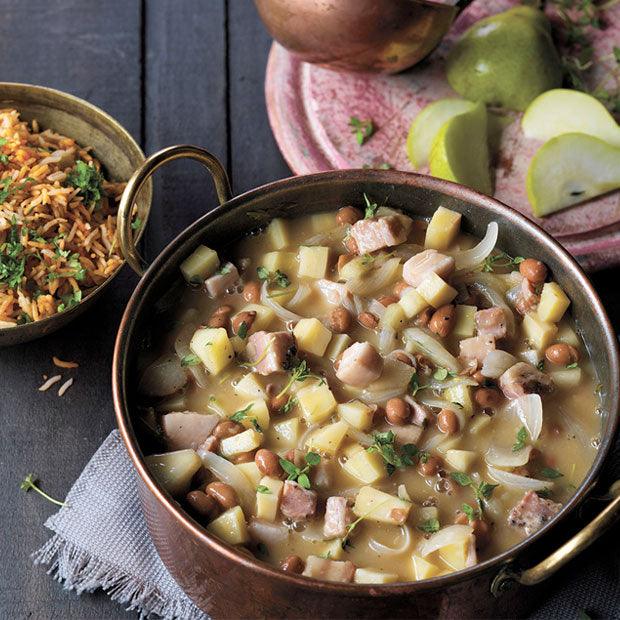 Directions
Step 1 Pre heat the oven to 200'C/ 180'C fan.
Step 2 Heat the oil and butter over a medium heat in a heavy based casserole dish. Sauté the onions for 5 minutes then add the diced parsnips and cook for a further 5 mins.
Step 3 Sprinkle over the flour and stir through for 1 minute. Pour in the cider and allow to come to a rolling simmer. Allow the cider to reduce a little for about 5 minutes then add the stock. Again, allow to come to simmering point and place a lid on.
Step 4 Reduce the heat a little and simmer gently for 20 minutes to allow the parsnip to soften.
Step 5 Add the diced pork confit, Borlotti beans, pears, herbs and seasoning. Stir through and replace the lid. Pop the casserole in the oven and cook for 25 minutes.
Step 6 Serve with noodles, rice or mash.