400g Dukeshill Pork Sausages
Regular price
£0.00
Sale price
£5.50
Unit price
per
125g Dukeshill Black Pudding, skinned and diced
Regular price
£0.00
Sale price
£5.50
Unit price
per
800g Potatoes, peeled & diced
1 eating apple, cored and sliced
150ml cider or apple juice
1 sprig of thyme (leaves only)
Dinner
PORK SAUSAGES WITH BLACK PUDDING AND LEEK MASH
My Pork Sausages with Black Pudding and Leek Mash recipe served with apple gravy takes the humble classic "bangers and mash" and elevates them into a quick and easy supper dish fit for a King.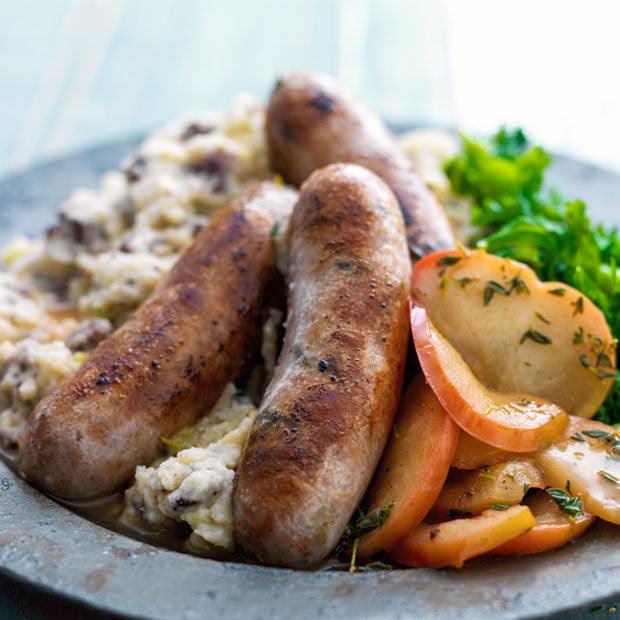 Directions
Step 1 Cook the potatoes for 15 minutes in a pan of boiling, salted water until soft. During the last 10 minutes add the leeks.
Step 2 Meanwhile, melt the butter in a pan and fry the black pudding until crispy.
Step 3 Fry the sausages for 15-20 minutes over a medium heat. For the last 5 minutes add the apple to the pan and allow to lightly brown on both sides.
Step 4 Add the cider and thyme to the pan and leave to bubble until reduced slightly.
Step 5 Drain the potatoes and leeks and mash with a little butter and milk. Stir through black pudding. Season to taste.
Step 6 Serve the sausages in their apple gravy with the black pudding and leek mash and seasonal greens.