200g DukesHill Hot Smoked Salmon, flaked
Regular price
£0.00
Sale price
£12.95
Unit price
per
1 medium onion, finely chopped
Breakfast
SALMON KEDGEREE
Our Hot Smoked Salmon means that this recipe is so quick and easy to make. It's the perfect flavour and texture to go with the lovely, spiced rice you usually would pair with a traditional smoked haddock kedgeree.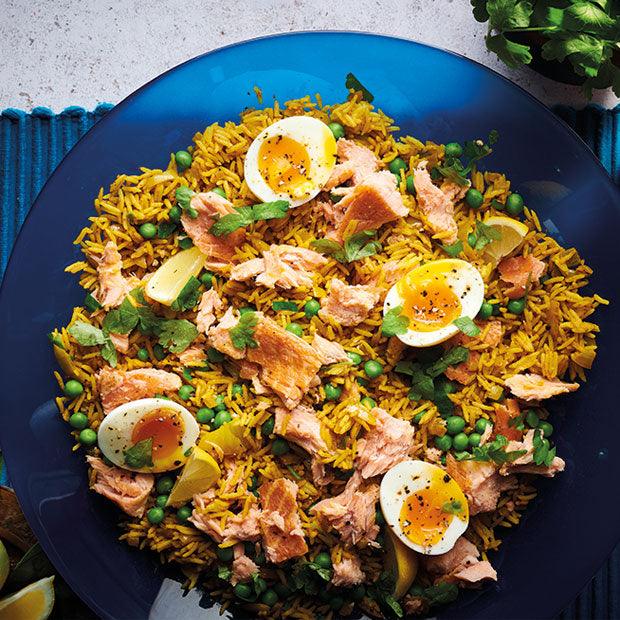 Directions
Step 1 Melt the butter in a saucepan or deep frying pan on a low/medium heat.
Step 2 Add the chopped onion and cook slowly for about 5 minutes until softened.
Step 3 Add the spices and stir into the onion and cook for 1 minute.
Step 4 Add the rice to the spiced butter and make sure it is completely coated.
Step 5 Pour in the stock and cover with a lid and leave it to cook for 10-12 minutes on a gentle heat.
Step 6 Place eggs in a small saucepan with hot but not boiling water and bring to the boil.
Step 7 Once the water starts bubbling cook the eggs for 5 minutes.
Step 8 Drain and cover with cold water until you are able to handle the eggs, then remove the shells.
Step 9 Once the rice has soaked up all the stock add the peas and flaked salmon and some more boiling water if necessary and stir through until the salmon and peas have warmed through.
Step 10 Add the chopped parsley and a squeeze of lemon to serve.