400g pork sausages
Regular price
£0.00
Sale price
£5.50
Unit price
per
500g ripe cherry tomatoes (or 400g tin good quality cherry tomatoes)
8 anchovy fillets, crushed in a pestle and mortar
Dinner
SAUSAGE, AUBERGINE & TOMATO GRATIN
This Sausage, Aubergine & Tomato Gratin is a satisfying and delicious crowd pleaser. Don't be put off by the use of the anchovies. They have been used world wide for thousands of years to add a little umami to food and work wonderfully well in this dish.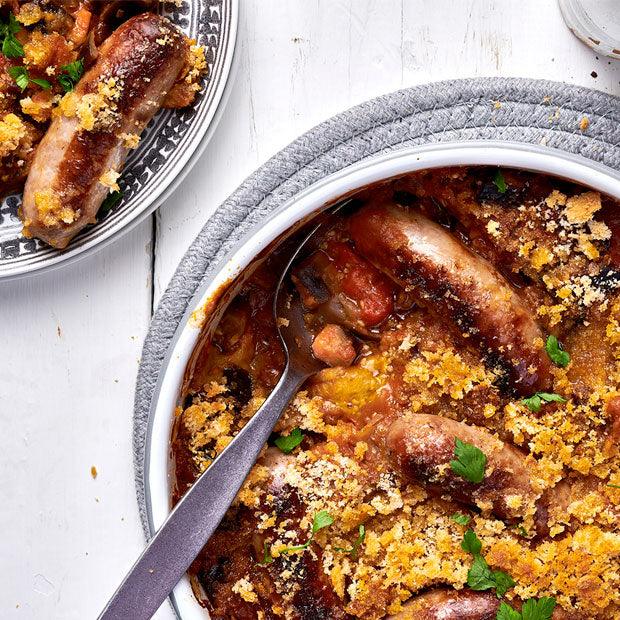 Directions
Step 1 Pre heat oven to 200'C/180'C fan/gas mark 6.
Step 2 First cook the sausages in a heavy based pan in 1tbsp oil over a medium heat for 20 minutes until browned all over. Transfer to a plate and slice the sausages into 1 cm slices.
Step 3 Using the same pan add the remaining 2 tbsp olive oil and reduce the heat to medium/low. Cook the garlic for 1 minute then add the aubergine and tomatoes and cook for 5 mins crushing them down as they cook until soft.
Step 4 Meanwhile heat the crushed anchovies in their oil for a few minutes in another pan, then add the flour followed by the milk to make a savoury roux. Stir this into the aubergine and tomato sauce along with the sausages, salt and sugar.
Step 5 Tip the sausage mixture into an oven proof dish and sprinkle with the breadcrumbs and drizzle the top with more olive oil.
Step 6 Cook in the oven for 15 mins or until the top is a golden brown. Sprinkle with parsley and serve.