400g good quality pork sausages
Regular price
£0.00
Sale price
£5.50
Unit price
per
150g streaky bacon, chopped into 1cm strips
Regular price
£0.00
Sale price
£7.50
Unit price
per
2 onions, peeled and roughly chopped
2 garlic cloves, peeled and sliced
500g Jerusalem artichokes, scrubbed and halved or quartered depending on size
Dinner
SAUSAGE & JERUSALEM ARTICHOKE CASSEROLE
I adore Jerusalem Artichokes and this is a lovely way of using them in my warming Sausage & Jerusalem Artichoke Casserole. Make sure you use good quality sausages and pancetta to avoid all the watery cook out you get with inferior products. You are aiming for an intensely flavoured sausage casserole here.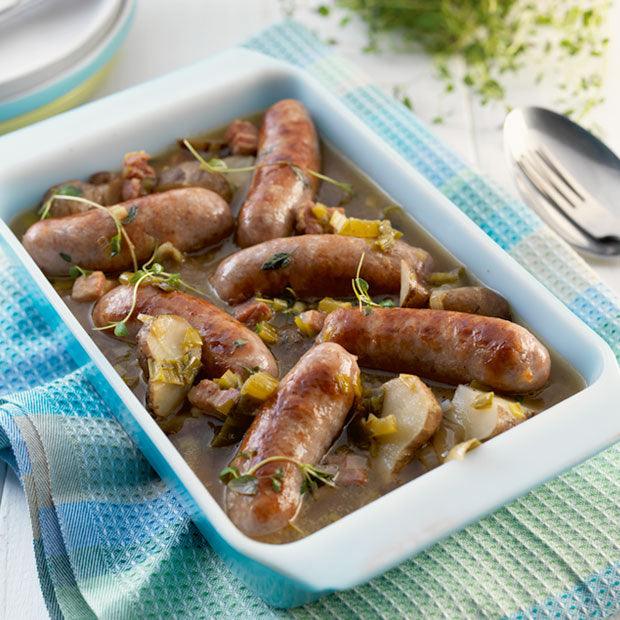 Directions
Step 1 First heat the oil in a heavy based casserole pan over a medium heat. Pop the sausages in and brown for 5 mins.
Step 2 Add the pancetta and continue to cook for 5 mins until crispy. Remove the sausages and pancetta from the pan.
Step 3 Turn the heat down to a low heat and add the onions, leeks and celery to the pan. Cook for 10 mins then add the garlic for a further 5 mins.
Step 4 Finally add the artichokes and cook for a further 5 mins before returning the sausage and pancetta to the pan.
Step 5 Pour the stock over the casserole, add the thyme sprigs and season with plenty of sea salt and ground black pepper.
Step 6 Cover with a lid and simmer for about 30-40 mins until the artichokes are tender.
Step 7 Remove from the heat and stir in the parsley.
Step 8 Perfect served with purple sprouting broccoli, crusty bread and a robust red wine.