400g pork sausages
Regular price
£0.00
Sale price
£5.50
Unit price
per
600g potatoes, peeled and sliced thickly 3-4mm
2 sprigs thyme, leaves removed and stalks discarded
Dinner
SAUSAGE & LEEK GRATIN
This sausage & leek gratin turns a pack of our delicious sausages into a satisfying and tasty family meal for four.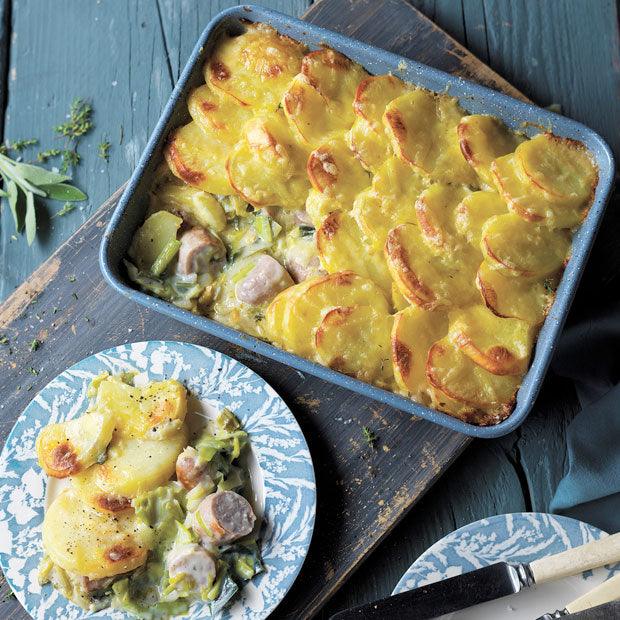 Directions
Step 1 Pre-heat oven to 200'C/180'C fan/gas mark 6.
Step 2 Bake sausages on a baking tray for 20 minutes turning halfway through cooking. Remove and when cool enough slice into 1' thick slices.
Step 3 Cook potatoes in boiling water for 7 minutes. Drain.
Step 4 Melt butter in a large frying pan, add onion and leeks, sage and thyme. Cook until softened, about 5 minutes.
Step 5 Add flour, cook for 1 minute, then add milk, whisking continuously, until sauce thickens, boils and is smooth.
Step 6 Remove from heat, add 75g (3oz) cheese and stir until melted.
Step 7 Transfer the sliced sausage to an ovenproof dish, top with the cheese, onion and leek sauce.
Step 8 Scatter the potato slices on top, sprinkle over remaining cheese. Bake for 30 minutes until browned.