400g pork sausages, skinned or sausage meat
Regular price
£0.00
Sale price
£5.50
Unit price
per
300g Spirali or Fusilli pasta (or any shaped pasta will do)
50g Parmesan, finely grated
2 garlic cloves, finely sliced
1 tsp fennel seeds, crushed
400g tin chopped tomatoes
Dinner
SAUSAGE & LENTIL PASTA BAKE
The sausage sauce is equally good with linguine or pappardelle. Just stir in the ricotta and Parmesan through the sauce before serving.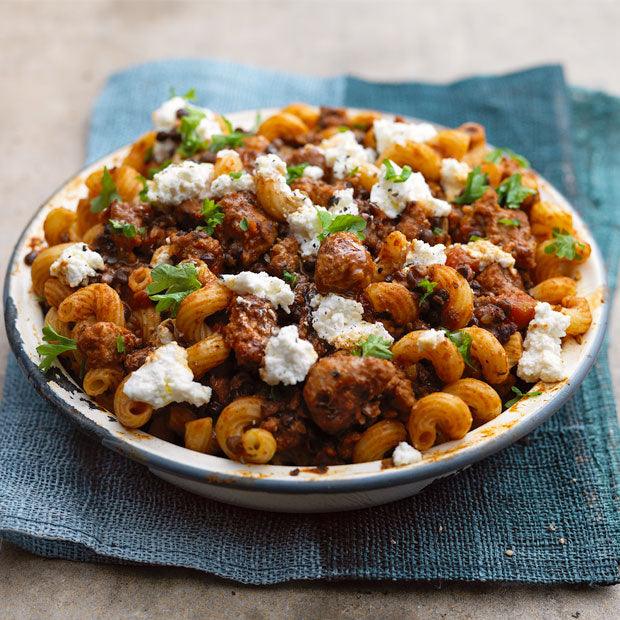 Directions
Step 1 Pre heat oven to 180'C/ 160'C fan/gas mark 4.
Step 2 Cook the pasta until al dente then drain and refresh with cold water.
Step 3 Heat the oil in a pan over a medium heat and crumble in the sausage meat. Break up with a fork to avoid big clumps forming. Add the garlic and fennel and cook for two minutes.
Step 4 Add the lentils and tomato puree and then pour in the tomatoes and stock. Give everything a stir and simmer gently for 25 minutes until the sauce has thickened slightly. Remove from the heat.
Step 5 Place the cooked pasta in a buttered baking dish. Top with the sausage sauce.
Step 6 Dollop blobs of the ricotta and the Parmesan over the top.
Step 7 Bake in the oven for 25 minutes until bubbling and golden.
Step 8 Serve with a green salad.