800g pork sausage meat
Regular price
£0.00
Sale price
£5.50
Unit price
per
125g streaky bacon, finely chopped
Regular price
£0.00
Sale price
£7.50
Unit price
per
500g all butter puff pastry
2 onions, roughly chopped
30g fresh parsley, chopped
Dinner
SAUSAGE WELLINGTON
Why not try making this stunning and tasty Sausage Wellington centrepiece using our sausage meat? Perfect for when you have lots of mouths to feed, and very economical too. Shown served alongside the Red Cabbage & Orange Salad (see blog for recipe).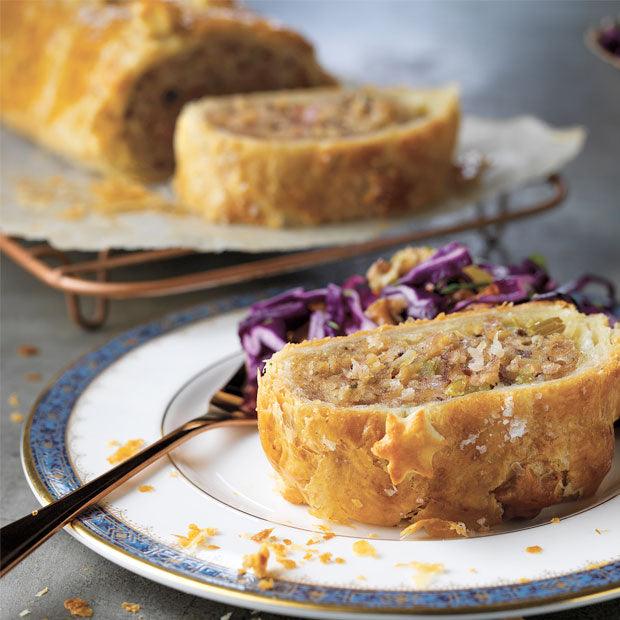 Directions
Step 1 Pre-heat oven to 200'C/180'fan.
Step 2 Heat the oil in a pan and add the chopped onion and celery. Sauté gently for 5 minutes until soft then transfer to a dish to cool. Turn up the heat and add the finely chopped bacon for a further 5 mins until crispy then leave to cool.
Step 3 Put the sausage meat in a bowl and add the cooled onion, celery and bacon, along with the maple syrup, breadcrumbs, cranberries, egg and parsley and seasoning. Mix thoroughly and shape into a large roll shape, wrap tightly in clingfilm and refrigerate for a min 4 hours.
Step 4 Roll the pastry out on a lightly floured surface so it is a quarter bigger than the roll of filling. Take the filling out of the clingfilm and place in the centre. Brush some beaten egg all around the edge of the pastry before rolling up and sealing the edges. Crimp the edges to seal and transfer to a lined baking sheet positioning the roll so it is resting on the long sealed edge. Brush with the rest of the beaten egg and score the surface with little cuts.
Step 5 Bake in the pre-heated oven for 40-45 mins until golden brown. Remove from the oven and allow to cool on a wire rack for 15 mins before serving with winter salads (see recipes on our website for inspiration).