1 Jar Of Gymkhana Classic Tandoori Marinade
Regular price
£0.00
Sale price
£7.50
Unit price
per
500g DukesHill Trimmed Rack of Lamb
Regular price
Sale price
£19.99
Unit price
per
Indian
Roasted Tandoori Lamb Chops
Tandoori lamb chops are a classic Indian dish that is both delicious and visually impressive. This Roasted Tandoori Lamb Chops recipe, however, takes the dish you know and love to the next level by incorporating our succulent Trimmed Rack of Lamb, cut from the prime part of the loin, as well as Gymkhana Classic Tandoori Marinade. These luxurious tandoori lamb chops are a perfect dish for a special occasion and are sure to impress with their delicious flavour and elegant presentation. So, if you're ready to create a captivating dish with an irresistible symphony of flavors and elegant presentation, let's begin!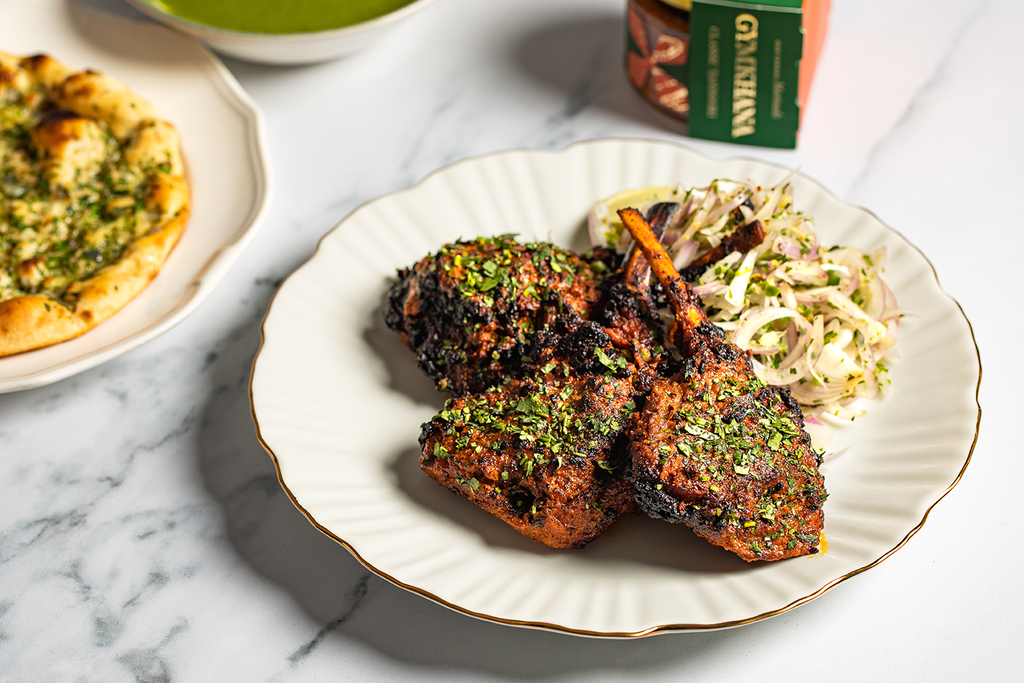 Directions
Step 1 Cut your lamb racks into 4 pieces and add to a mixing bowl along with your jar of Gymkhana's Classic Tandoori Marinade.
Step 2 Mix until each chop is generously coated, then set aside for 2 hours.
Step 3 Preheat the oven to 220C.
Step 4 Place the lamb chops onto a wire rack with an oven tray below and roast in the oven for 8 minutes.
Step 5 Turn the chops and roast for a further 8 minutes, until they are golden brown, lightly charred and the juices run clear.
Step 6 Remove from the oven and rest for 8 minutes.
Step 7 Serve with coriander and mint chutney, and a salad made with the sliced onions, chopped ginger, coriander and dressed with salt and lemon juice.
Recipe Note
Please note that this recipe contains Dairy and Mustard.