454g beef fillet
Regular price
£0.00
Sale price
£127.00
Unit price
per
2 tbsp dark Balsamic vinegar
2 onions – peeled and roughly sliced
85g Gorgonzola – crumbled
150ml beef or vegetable stock
linguine pasta or rice to serve
Dinner
BEEF FILLET AND GORGONZOLA SAUCE
My beef fillet and Gorgonzola sauce is perfect for using those tail bits of fillet and magically transforming them into a rich and decadent supper dish. This is such an easy recipe to make and is my take on a classic beef stroganoff involving the addition of Gorgonzola to create a fabulously rich and luxurious meal. Perfect served on a bed of linguine or rice.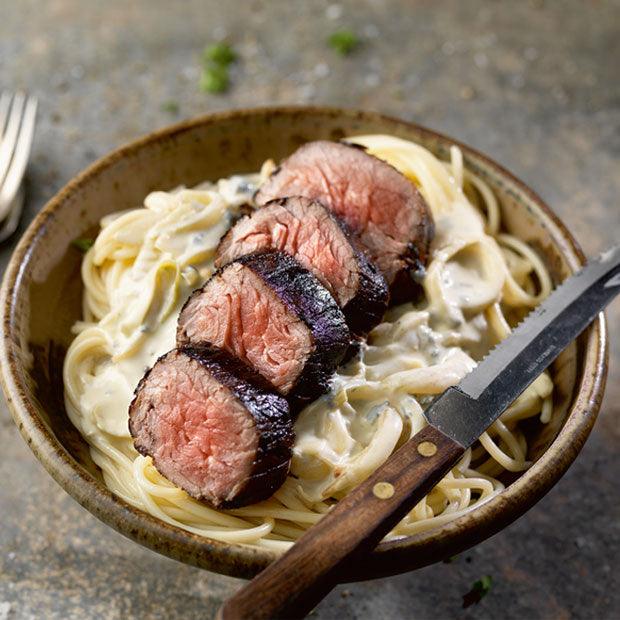 Directions
Step 1 Marinade the piece of beef fillet in the Balsamic vinegar with the brown sugar and seasoning and leave for one hour.
Step 2 Gently sauté the onion in the butter for 10 mins until softened.
Step 3 Cook the pasta or rice according to the instructions.
Step 4 Meanwhile, heat the oil in a frying pan until smoking hot, sear the fillet tail for about 2 minutes on each side until well browned, then set aside and keep warm.
Step 5 Add the cream, stock and Gorgonzola to the onions and stir in for 2 minutes.
Step 6 Slice the fillet tail into 1cm thick slices and add to the onion. Remove from the heat and season to taste.
Step 7 Serve with the linguine or rice.