2 DukesHill Free Range Chicken Breasts, skin on
Regular price
Sale price
£19.99
Unit price
per
150g DukesHill Haggis
Regular price
£0.00
Sale price
£8.00
Unit price
per
1 tsp fresh chives, chopped
Dinner
CHICKEN STUFFED WITH HAGGIS IN A WHISKY SAUCE
This dish is our variation on Chicken Balmoral, which along with Haggis, Neeps & Tatties is a traditional way of enjoying one of our favourite Scottish delicacies. The perfect meal to cook on Burns Night or any time of the year when you're craving something comforting and inherently Scottish.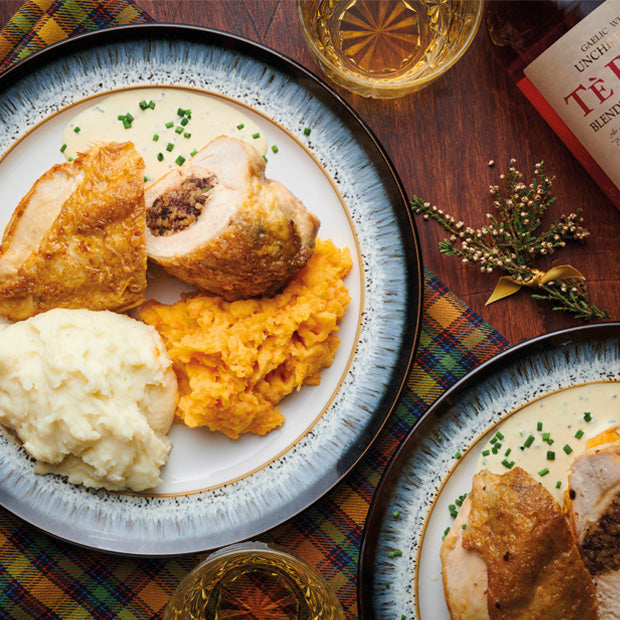 Directions
Step 1 Preheat oven to 190°C/170°C fan/gas mark 5.
Step 2 Roll the haggis into two sausages.
Step 3 Make an incision in the chicken fillets to create a pocket. Put the haggis into the pocket and pat down to seal. Wrap the chicken tightly in cling film and place into fridge. Allow to cool.
Step 4 In a hot pan sear your chicken breasts, skin side down first until crisp and golden. Place on a baking tray, lined with baking parchment and cook for 25 minutes.
Step 5 Meanwhile, heat the double cream in a pan over a low to medium heat. Add the mustards and whisky and stir to combine. Increase the heat until the mixture is simmering and continue to cook for 1-2 minutes.
Step 6 Remove the pan from the heat and season to taste with salt and freshly ground black pepper. Stir in the chives and lemon juice.
Step 7 Delicious served with Dauphinoise potatoes and shredded cabbage or neeps and tatties!