200g dry cured streaky bacon, chopped
Regular price
£0.00
Sale price
£7.50
Unit price
per
500g pork confit, diced (plus all the juices, herbs and spices in its bag)
Regular price
Sale price
£19.99
Unit price
per
200g chestnut mushrooms, sliced
2 carrots, peeled and chopped
freshly ground black pepper
2 tbsp freshly chopped parsley
Dinner
NORMANDY PORK CASSEROLE
I love visiting France and in particular Normandy where the recipes seem to use an abundance of cream, and more often than not cider. Here I have tried to re-create a dish we once had on one of our visits using our versatile pork confit and bacon in a cider and cream sauce. Simply served with mash and seasonal vegetables.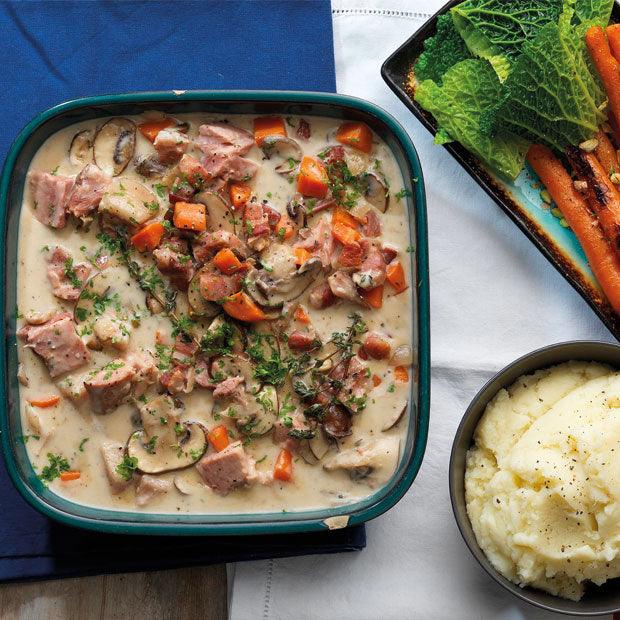 Directions
Step 1 Preheat the oven to 200°C/180°C fan/gas mark 6.
Step 2 Heat the vegetable oil in a large casserole dish and fry the bacon over a medium heat until crispy, about three minutes.
Step 3 Add the onion and cook for 5 minutes.
Step 4 Add the mushrooms and carrots and cook for a further two minutes.
Step 5 Sprinkle over the pepper and flour and cook for a further minute before adding the cider and stock. Bring to a rolling simmer.
Step 6 Stir through the diced pork confit with all its juices, cover the casserole dish with a lid and transfer to the oven for 40 mins.
Step 7 Remove from the oven and stir through the cream.
Step 8 Serve with mash and seasonal vegetables with the parsley sprinkled over the top.