500g DukesHill Chateaubriand
Regular price
Sale price
£19.99
Unit price
per
2 cloves garlic, peeled and smashed
1 shallot, finely chopped
salt and freshly ground white pepper
a few shavings black truffle (optional)
Dinner
ROASTED CHATEAUBRIAND WITH RED WINE & TRUFFLE JUS
The history of this dish goes back many years. Chateaubriand is a traditional French recipe, named after a French writer and politician from the 18th Century whose chef is thought to have created the recipe consisting of a centre cut from the beef tenderloin, grilled and served with bearnaise sauce and chateau potatoes.Chateaubriand is a delightfully indulgent and unique way to enjoy beef and this recipe for Chateaubriand will have you creating a culinary masterpiece in no time. We have roasted our delightful DukesHill Chateaubriand meat and used the same pan to make a rich red wine jus with thyme and optional black truffle. Whether enjoyed with a bearnaise sauce or a pan jus, this recipe for Chateaubriand is equally delicious and utterly decadent.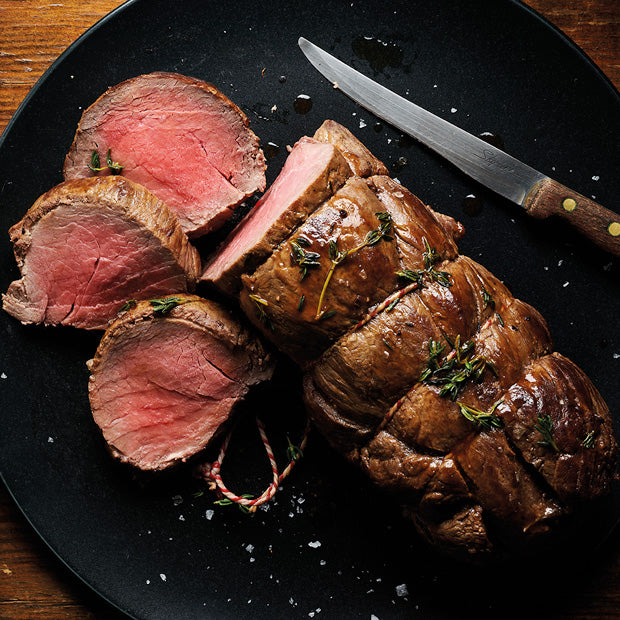 Directions
Step 1 Preheat the oven to 170°C fan or gas mark 5.
Step 2 Let the chateaubriand rest at room temperature for 15 minutes, then liberally season with salt and pepper.
Step 3 Heat the olive oil in a large heavy based ovenproof pan over a high heat. Sear the meat until browned on all sides, about 7-8 minutes total.
Step 4 Reduce the heat to low, and add the butter, garlic, and thyme. Baste the meat with the pan liquid.
Step 5 Put the pan in the oven for 6 to 8 minutes for medium-rare, or until the internal temperature reaches 54°C in the thickest part of the roast.
Step 6 Place the meat on a cutting board, cover loosely with foil, and let it rest for 10 minutes.
Step 7 While the meat is resting, discard all but 1 tbsp of fat from the pan, and the garlic and thyme.
Step 8 Return the pan to a medium-high heat and add the shallot and wine. Cook, stirring to release any browned bits from the pan, for 2 minutes.
Step 9 Add the stock and boil until the sauce thickens, 3 to 5 minutes. Strain through a sieve and season to taste.
Step 10 Slice the chateaubriand and drizzle over the jus followed by a few shavings of black truffle if using. Delicious served with Dauphinoise potatoes and green beans.