400g Pork Sausages (any from our range work well)
Regular price
£0.00
Sale price
£5.50
Unit price
per
1 aubergine, diced into 2cm pieces
2 courgettes, sliced 1cm thick
freshly ground black pepper
1tsp harissa spices (or 2 tsp harissa paste)
400g ripe cherry tomatoes (or tinned cherry tomatoes)
400g cannellini beans, drained and rinsed
Dinner
SAUSAGE RATATOUILLE STEW
I love a good ratatouille and so in this I've combined our delicious sausages with a ratatouille inspired stew with some additions of my own.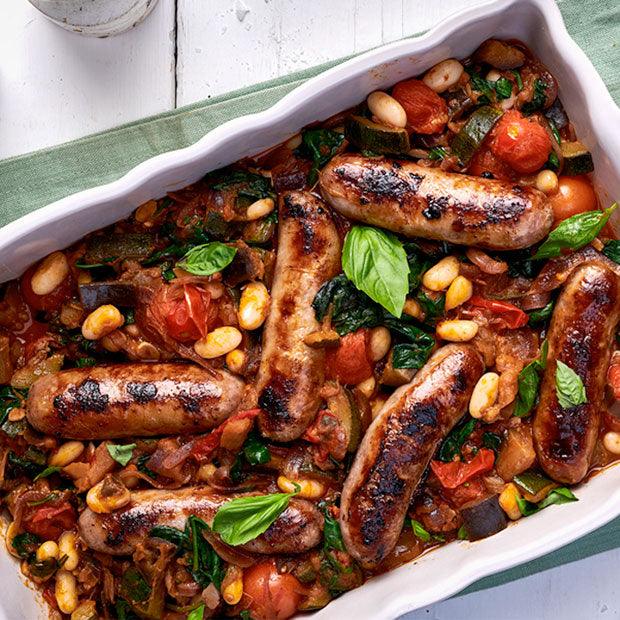 Directions
Step 1 First cook the sausages in a heavy based pan in 1 tbsp oil over a medium heat for 20 minutes until browned all over. Transfer to a plate.
Step 2 Using the same pan add the remaining 2 tbsp olive oil and reduce the heat to medium/low. Add the onion and aubergine and cook for 5 mins before adding the garlic for a further 2 minutes.
Step 3 Add the stock, beans, courgettes, sausages, tomatoes, harissa and seasoning to the pan and cook for a further 10 minutes. Add the spinach for the final 2 minutes, stirring through the stew.
Step 4 Finally sprinkle over the basil and serve.