350g ham
Regular price
£0.00
Sale price
£43.00
Unit price
per
400g canned cannellini beans, rinsed, drained
3 garlic cloves, finely chopped
2 tablespoon chopped flat-leaf parsley
3 teaspoons Dijon mustard
4-6 tbsp olive oil for frying
Dinner
HAM & CANNELLINI BEAN RISSOLES
These Ham & Cannellini Bean Rissoles are a great way to use leftover ham or ham hock. This is my hammy version of a regular Monday night supper when I was growing up. My Mother would fry up rissoles using up any leftover roast meat with her hand mincer, to which she would add onions, breadcrumbs, herbs and plenty of seasoning. This was one of my favourite meals served with a liberal helping of baked beans! Nowadays hand mincers have been consigned to vintage shops and rissoles are rarely seen. Thank goodness she approves of my modern day rissole using ham, cannellini beans, garlic and Dijon mustard.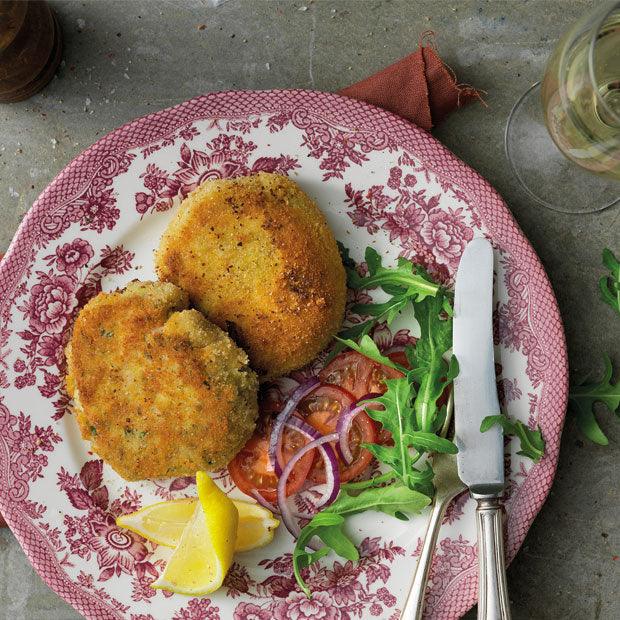 Directions
Step 1 Heat 2 tablespoons oil in a pan over medium heat. Cook onion for 2-3 minutes until softened but not browned. Cool slightly.
Step 2 Pulse the ham, beans, garlic, parsley, mustard and onion in a food processor until you have a coarse patty mixture, then form into 8 rissoles about 8cm across.
Step 3 Chill for 30 minutes. Place flour, egg and breadcrumbs in 3 shallow dishes. Dip each rissole first in the flour, then egg, followed by the breadcrumbs.
Step 4 Heat the oil in a large pan over medium-high heat. Cook the rissoles in 2 batches, for 2-3 minutes on each side until golden and crisp all over. Add more oil if necessary.
Step 5 Serve 2 on each plate with lemon wedges and a rocket, tomato and red onion salad.