500g pork confit
Regular price
Sale price
£19.99
Unit price
per
400g can chickpeas, rinsed and drained 
1 tsp rosemary leaves, finely chopped
freshly ground black pepper
½ large red cabbage, finely sliced
Dinner
PORK CONFIT WITH CHICKPEA PURÉE
I love using one of my favourite Dukeshill products, our delectable Pork Belly Confit in numerous ways. This version with chickpea purée and braised red cabbage makes a lovely supper dish.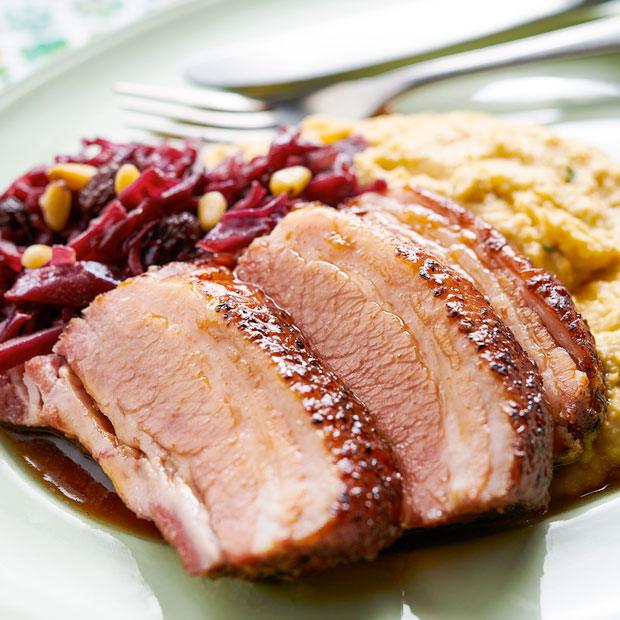 Directions
Step 1 Pre heat the oven to 210'C/190'C fan/ gas mark 6.
Step 2 Heat the oil in a heavy based pan, and gently fry the onion and salt for 3 minutes until slightly softened. Add the cabbage, raisins, cinnamon and salt and stir through for one minute. Pour in the sherry and sugar, turn the heat down to low, place a lid on top and leave the cabbage to cook for 30-40 minutes until it is soft and sweet. Stir through the pine nuts just before serving.
Step 3 Pop the pork belly confit uncovered on a baking tray and roast for 25-30 mins until nicely golden.
Step 4 For the chickpea puree pop all the ingredients in a processor and whizz until smooth. Transfer to a saucepan and heat very gently.
Step 5 To serve slice the confit and serve alongside a dollop of chickpea mash and some red cabbage.