400g Dukeshill pork chipolatas (or any of our thicker plain pork sausages)
Regular price
£0.00
Sale price
£5.50
Unit price
per
1 onion, peeled and finely chopped
3 garlic cloves, peeled and finely chopped
1 tbsp double concentrate tomato puree
400g tin chopped tomatoes
½ tbsp. apple cider vinegar
2 x 400g tins haricot beans, drained and rinsed (or 1 x 720g jar)
1 tbsp Worcestershire Sauce
¼ tsp English mustard powder
½ -1 tsp salt, according to taste
freshly ground black pepper
Breakfast
SAUSAGES, SPICY BEANS & EGGS
Loosely based on Boston Baked Beans these mildly spicy beans make a wonderfully healthy and nutritious accompaniment to both our sausages, chorizo and our Pork Confit. Topped with an egg they are comfort food at its best.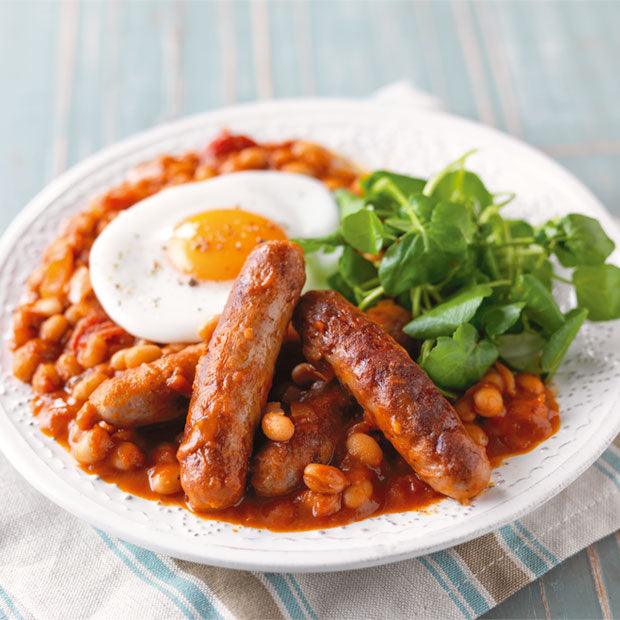 Directions
Step 1 Fry the sausages in the oil over a medium heat for 15 minutes until browned all over.
Step 2 Add the onion to the sausages and cook for a further 5 minutes.
Step 3 Then add the garlic and spices and cook for another minute before adding the tomato puree.
Step 4 Stir the puree in the pan for 30 seconds then add the tinned tomatoes, maple syrup, apple cider vinegar, water and salt and pepper. Bring to the boil then simmer uncovered for 5 minutes.
Step 5 Add the beans and cook for a further 5 minutes.
Step 6 Meanwhile fry the eggs in a little vegetable oil.
Step 7 Serve the sausages and beans mixture with an egg sitting on top and tuck in.