150g DukesHill Dry Cured Bacon, diced 1cm cubes
Regular price
£0.00
Sale price
£7.50
Unit price
per
150g baby broad beans, fresh or frozen
150g peas, fresh or frozen
125g soft goats cheese (such as Ragstone), crumbled
freshly ground black pepper
Dinner
BACON, BROAD BEANS, PEAS & GOATS CHEESE LINGUINE
We love preparing this Bacon, Broad Beans, Peas & Goats Cheese Linguine dish at any time of year but particularly when the broad beans and peas come into their own in the summer. This is a great family dish and equally good for summer entertaining. You can serve the pasta in a large serving dish and bring to the table with a flourish! No accompaniment necessary other than a delicious glass of Italian Barolo.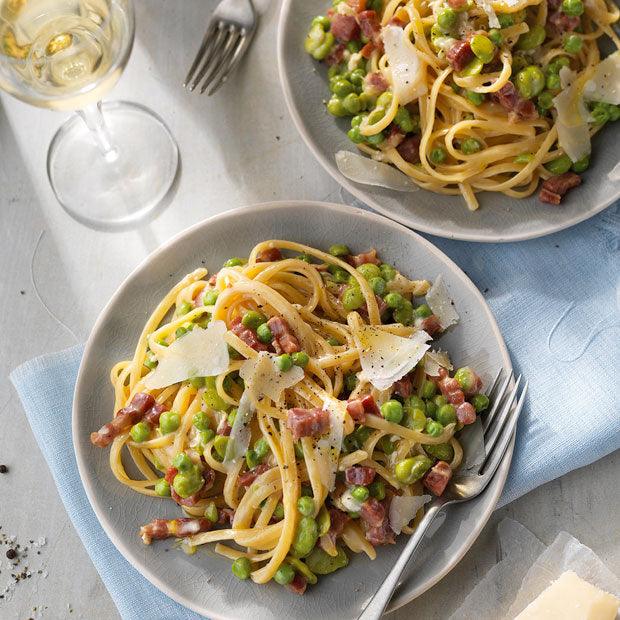 Directions
Step 1 Start by bringing a pan of water to the boil and throwing in the broad beans for 2-3 minutes followed by the peas for a further 2-3 minutes. Drain and immediately refresh in cold water until they have lost their heat. Drain.
Step 2 Remove the hard outer skin from the broad beans and from the peas if using fresh peas (not necessary if using frozen podded peas).
Step 3 Cook the linguine according to the instructions. Drain reserving 4 tbsp of the cooking water.
Step 4 In the meantime, heat a pan over a medium heat and dry fry the bacon until golden and crispy, approximately 5 minutes.
Step 5 Add the olive oil and chopped garlic to the pan and cook for a further 2-3 minutes, then add the shelled broad beans and peas. Cook for a further 2 minutes.
Step 6 Stir in the goat's cheese, 25g of the Parmesan, lemon juice and seasoning into the bacon and bean mixture. Stir in the reserved pasta cooking water then tip the pasta in and stir through.
Step 7 Serve with the remaining 25g grated Parmesan sprinkled over.