2 DukesHill Bacon Chops
Regular price
Sale price
£19.99
Unit price
per
100g broad beans (fresh or frozen)
250g new potatoes, halved
1 tbsp fresh parsley, chopped
freshly ground black pepper
Dinner
BACON CHOPS WITH BROAD BEANS & NEW POTATOES
A really simple but delicious way of serving our popular bacon chops, and especially when fresh broad beans are in season. Great as a quick supper dish.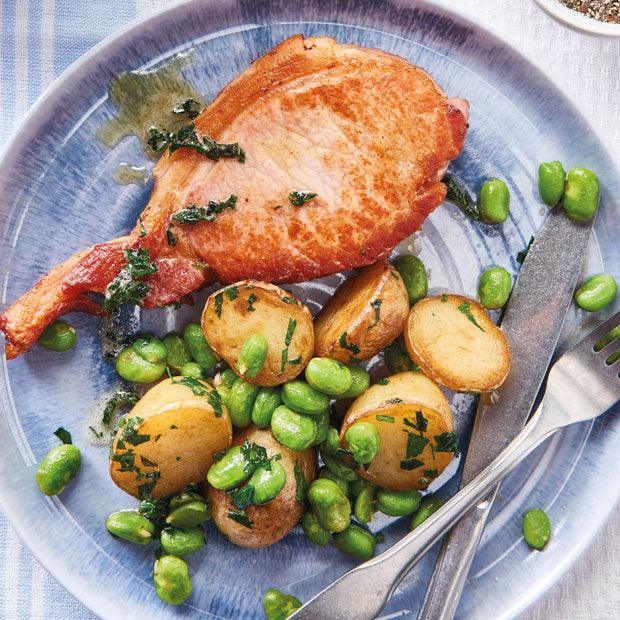 Directions
Step 1 Fry the bacon chops in 1 tbsp oil in a heavy based frying pan for 10 mins, until browned, turning once during cooking. Remove and keep warm.
Step 2 Meanwhile bring the potatoes to the boil in salted water over a high heat and simmer for 8-10 minutes until par cooked. Drain and refresh in cold water.
Step 3 Either steam the broad beans over the potatoes for 5 mins or simmer the broad beans for 3-4 minutes. Run them under cold water and peel off the grey skins if using fresh beans.
Step 4 Heat the remaining oil and butter in the same heavy based pan over a medium to high heat and fry the potatoes until they are really brown and crisp, approx. 5 minutes, add the broad beans, parsley, season and toss. Finally sprinkle with the sherry vinegar.
Step 5 Serve alongside the bacon chops.