250g streaky bacon, chopped
Regular price
£0.00
Sale price
£15.00
Unit price
per
500g Brussels sprouts, thinly sliced
2 tsp Worcestershire sauce
Breakfast
BACON & SPROUT OMELETTE WITH OYSTER SAUCE DRESSING
Oh my goodness, who'd have thought this would be such a winning combination but it is. Bacon and nutty, finely sliced sprouts encased by the lightest of batter and served with an intense dressing. It makes for a fabulously tasty lunch or supper dish. Simply serve on its own or with a green or tomato salad and wait for the compliments!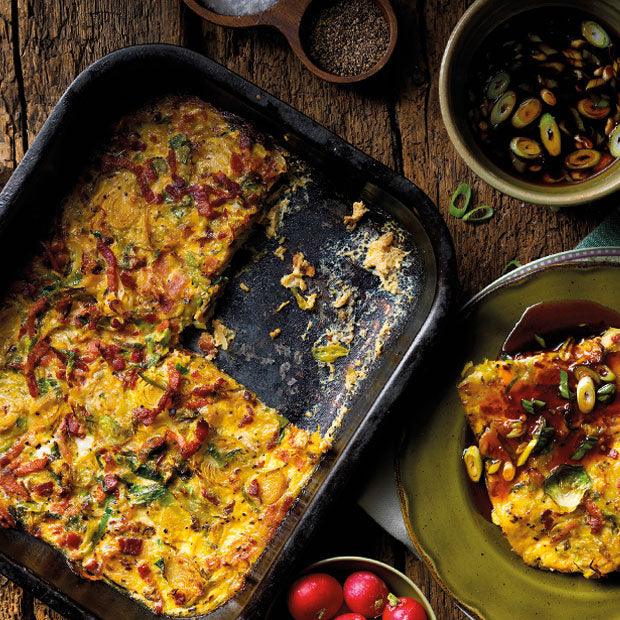 Directions
Step 1 Pre heat the oven to 180'C/160'C fan.
Step 2 In a heavy based pan dry fry the bacon over a medium heat until crispy, about 5 minutes.
Step 3 Trim the sprouts, slice finely and add to the pan, along with the butter. Continue to cook for 5-8 minutes until the sprouts are tender but still bright green.
Step 4 Meanwhile in a bowl mix together the eggs, milk, water and pepper to form a batter. Don't be tempted to add salt.
Step 5 Remove the Brussels sprouts and bacon from the heat and tip into a greased baking tray (8 inches/20cm square). Pour the batter mixture over and pop in the oven for 25 minutes until set.
Step 6 Mix together the oyster sauce, honey, Worcestershire and soy sauces and set aside.
Step 7 When cooked remove the omelette from the oven and allow to cool for 5 minutes before cutting into 4 squares and serving with a spoonful of dressing drizzled over and some spring onion scattered on top.