1 x 350g pack dry cured streaky bacon (12 slices)
Regular price
£0.00
Sale price
£7.50
Unit price
per
90g blue cheese, crumbled (such as Stilton or Cote Hill Blue)
Regular price
Sale price
£19.99
Unit price
per
180g cooking chorizo, remove skin and cut into small dice
Canape
BACON-WRAPPED DATES STUFFED WITH CHORIZO AND BLUE CHEESE
These bacon-wrapped dates stuffed with chorizo and blue cheese are a delicious twist on the classic devils on horseback. Here I've used our streaky dry cured bacon and Stilton but any of our dry cured bacons or blue cheeses would work equally well. The key is not to use inferior bacon as you'll just end up with lots of exudate, and as a result they won't crisp up so well.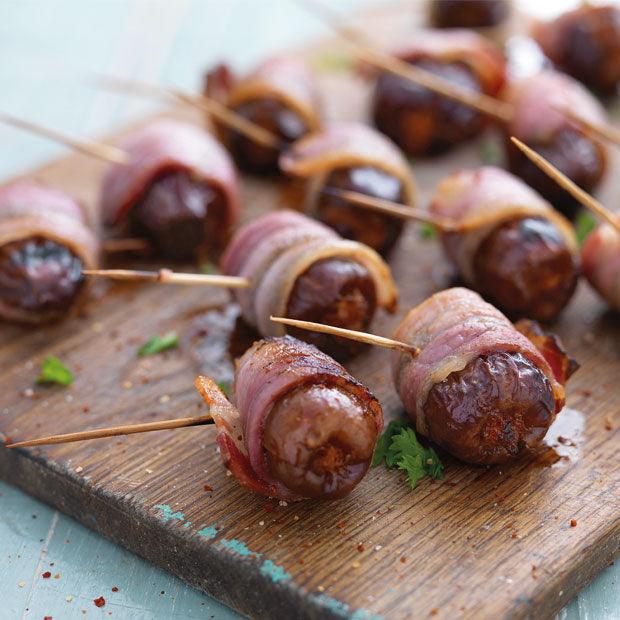 Directions
Step 1 Mix the stuffing ingredients together and form 24 balls.
Step 2 Cut each streaky rasher vertically to form two thin, long half rashers.
Step 3 Carefully open each date and remove the stone. Flatten the date slightly and place 1 ball inside each date, closing together gently. It doesn't matter if the date doesn't close completely.
Step 4 Wrap each stuffed date with a half rasher and fix with a cocktail stick through the middle.
Step 5 Place on a baking tray and cook in a pre-heated oven at 200'C/180'C fan for 15-20 minutes or until crispy and golden.