x6 DukesHill Wholegrain Pancakes4 tbsp DukesHill Amarena Cherries (roughly half a jar)
Regular price
£0.00
Sale price
£11.95
Unit price
per
500g/ml vanilla ice cream, melted
Dessert
BAKED ALASKA
This is a spectacular showstopper of a dish. Our delicious Amarena Cherries have a gorgeous, rich flavour that work so well with the almond sponge. If you're a fan of the flavour of a Cherry Bakewell, then this is the perfect dessert to add to your repertoire. It's a great centrepiece but is actually an incredibly simple dish to prepare.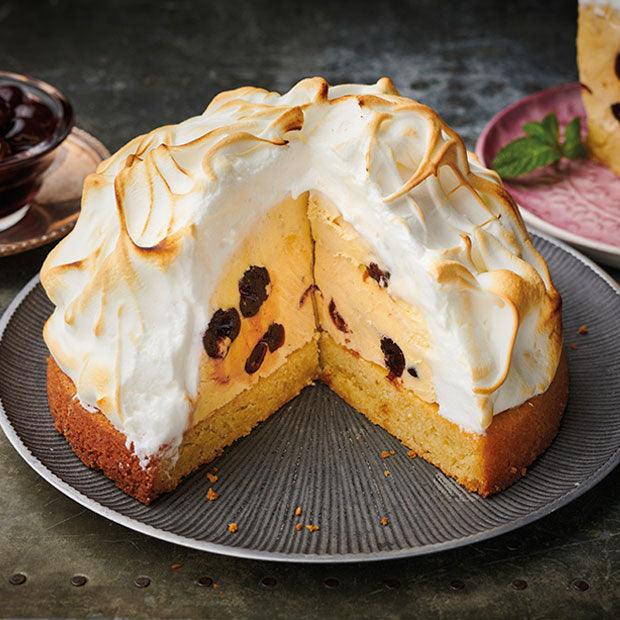 Directions
Step 1 It is best to make the ice cream in advance to give it at least overnight to freeze.
Step 2 Melt a tub of vanilla ice cream in a large mixing bowl. Once it has melted enough to stir, add the cherries and mix together.
Step 3 Line a circular Tupperware with clingfilm and pour the cherry cream mixture into the container. Freeze overnight.
Step 4 Heat oven to 180°C/160°C fan/gas 4 and grease a deep 20cm loose-bottomed cake tin.
Step 5 Blitz the ground almonds, butter, sugar, flour, eggs and vanilla extract in a food processer until well combined.
Step 6 Bake for 45 mins until golden. Insert a skewer into the sponge and make sure it comes out clean. It might need an extra five minutes. Cool, then remove from the tin and place on a wire rack.
Step 7 Wait until the cake has completely cooled on the wire rack. You want to make sure that there's no warmth in the sponge as it will melt the ice cream.
Step 8 Whisk the egg whites until they form peaks then continue whisking, adding the sugar a little bit at a time until it forms stiff peaks. Put the egg white mixture into a piping bag.
Step 9 Once the sponge and meringue mix are ready you can take the ice cream out of the freezer. Using the cling film to help remove it from the Tupperware in one shape, place on top of the sponge. Immediately start piping the meringue onto the sponge and ice cream making sure it's completely covered and sealed. You can decorate it as you want.
Step 10 Once the meringue is on you can either put it into a hot oven (preheated to 240°C/220°C fan/gas mark 9) for 5 minutes until it is golden-brown all over. Or you can use a blowtorch if you have one. You will need to make sure it has an even colour all over to make sure there's a nice layer of hardened meringue to cut into. Serve immediately.
Step 11 Serve immediately.