1 DukesHill Beef Barbacoa 500g
For the pickled red cabbage:
¼ small red cabbage, shredded as finely as possible 
300ml long grain white rice (use a measuring jug) 
Water (as necessary – see below) 
A small bunch of fresh coriander, chopped 
Dinner
BEEF BARBACOA BRISKET TACOS WITH ARROZ ROJO AND PICKLED RED CABBAGE
Indulge in succulent Beef Barbacoa Brisket Tacos, topped with vibrant Arroz Rojo and zesty Pickled Red Cabbage for a mouthwatering fiesta of flavours that will transport your taste buds to Mexico.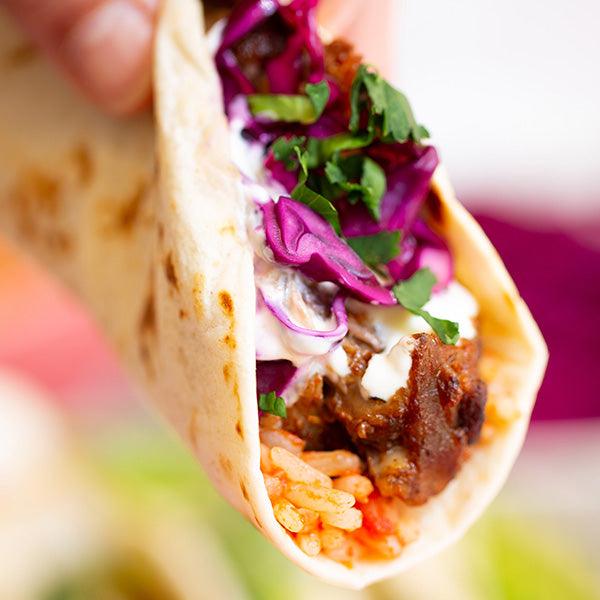 Directions
Step 1 Preheat oven to 180°c fan.
Step 2 Remove the beef from all packaging and put the contents of the bag, including any liquid, into a baking tray lined with foil.
Step 3 Cook for 25 minutes, or until golden. Baste with the juices in the tray from time to time.
Step 4 To make the pickled red cabbage, mix the ingredients thoroughly and set aside for 20 minutes or so.
Step 5 To Make the arroz rojo, fry the onion and garlic very gently in the oil until completely softened but not coloured. Add the tomatoes, stock pot, and salt to the measuring jug you used for the rice and make up to 450ml. Blend this briefly. Add the rice to the onion, and continue to fry gently, stirring to coat the grains, for a couple of minutes more. Add the tomato and stock liquid, bring to a boil, then simmer very gently for about 10-12 minutes. Remove from heat and keep warm.
Step 6 Mix the lime into the soured cream with the lime and add a little cold water to get the consistency of single cream.
Step 7 Using soft floury tacos, briefly cook in a dry frying pan over high heat until they start to colour. You could use crisp taco shells instead for an alternative texture to your taco.
Step 8 To assemble, put some rice into a taco, top with some shredded beef, some soured cream and some shredded pickled cabbage. Garnish with some sliced avocado and chopped coriander.