2 carrots, peeled and sliced
3 small turnips, peeled and diced finely
seasoning to taste (go easy with the salt if using York or Shropshire Black ham)
200g Dukeshill ham (or ham hock) chopped
Regular price
£0.00
Sale price
£4.50
Unit price
per
150g cooked chicken (or turkey) chopped
Regular price
Sale price
£19.99
Unit price
per
Dinner
CHICKEN & HAM PIE
My family love this Chicken & Ham pie with its creamy mustard and tarragon sauce and melt in the mouth flaky pastry topping. Make using any of our ham or ham hock meat.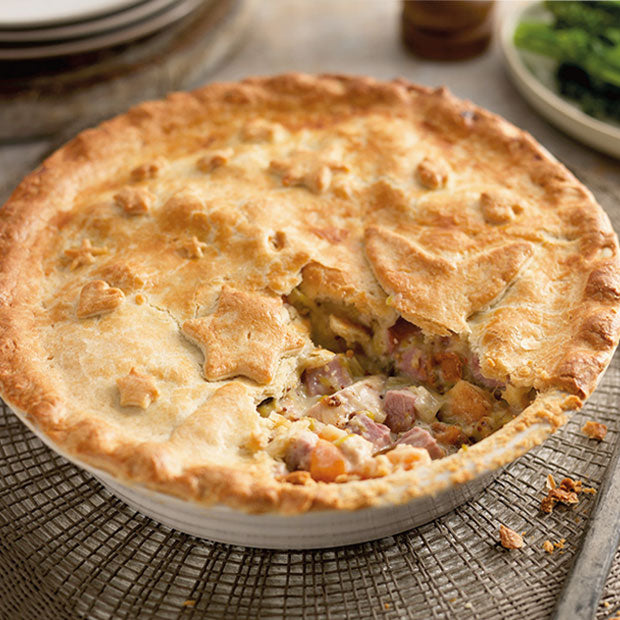 Directions
Step 1 Pre-heat oven to 180'C/160'C fan/gas mark 4.
Step 2 Melt the butter in a heavy based saucepan over a low heat then sweat the vegetables for 10-15 minutes. Add the flour to the pan to soak up all the butter and coat the vegetables. Cook for a further minute.
Step 3 Pour in the wine and allow to bubble for a minute then gently add the stock little by little. Allow to come to a gentle simmer and for the sauce to thicken. Take off the heat and stir in the ham, chicken, mustard, crème fraîche, tarragon and seasoning to taste. Transfer the pie filling to a buttered pie dish. Position your pie funnel in the centre.
Step 4 To make the pastry break up the butter into the flour and gently rub between your fingers until well dispersed. Add the water a little at a time until the dough comes together. Roll out to cover the pie dish and place carefully over the funnel allowing the funnel to break through. Pinch the edge to seal the pastry round the edge of the dish. Brush with beaten egg and milk. Bake for 35 minutes.