2 pork chops
Regular price
£0.00
Sale price
£10.95
Unit price
per
freshly ground black pepper
2 garlic cloves, peeled and finely chopped
½ tsp Spanish paprika (Pimenton)
10g fresh coriander, leaves and stalks chopped
1 tsp concentrated tomato puree
200ml chicken or vegetable stock
75g dried apricots, whole
2 pears, peeled, cored and quartered
Dinner
CHILLI PORK CHOPS WITH PEAR & APRICOTS
This slightly spicy and fruity slow cooked pork casserole is a sure fire hit with my family. I've cooked it and frozen it to take on several self-catering holidays in the past where it fills the temporary kitchen with wonderful smells.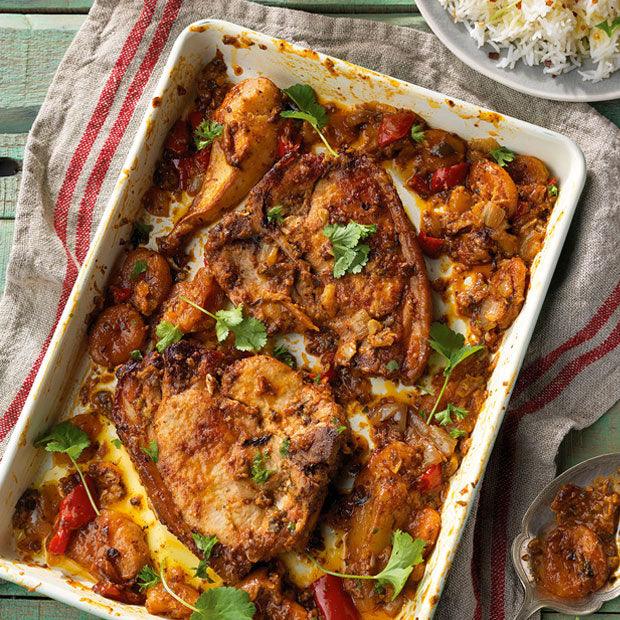 Directions
Step 1 Pre heat the oven to 180'C/160'C fan.
Step 2 In a heavy based pan heat the oil. Dust the chops with the seasoned flour and fry over a high heat until browned, approx. 5 minutes on each side. Remove to a casserole pot.
Step 3 Whilst the chops are cooking dry fry the pumpkin, coriander and cumin seeds for 1-2 minutes over a high heat just until you can begin to smell their fragrance. Remove from the heat and transfer to a small bowl chopper/food processer. Add the green chilli, fresh coriander and paprika and whizz until chopped finely.
Step 4 Sauté the onions in the heavy-based pan for 5 minutes over a medium-low heat. Then add the chopped garlic and cook for a further 2 mins. Stir in the spice and herb mix and tomato puree. Pour in the wine and stock and bring to a gentle simmer.
Step 5 Add the apricots, pears and orange zest to the chops in the casserole dish and pour the contents of the frying pan over. Pop the lid on and transfer to the oven for 1 ½ hours.
Step 6 Serve with boiled rice or baked potatoes and green beans.