12 slices Dukeshill ham
Regular price
£0.00
Sale price
£7.00
Unit price
per
80g Comté cheese, grated
Regular price
£0.00
Sale price
£9.50
Unit price
per
8 slices white sandwich loaf
Lunch
CROQUE MONSIEUR
Neale and I love visiting France and time and again it's the food that is the draw as much as their beautiful countryside and cities. They seem to have a unique way of approaching all aspects of life including food. Somehow, they know to take a few quality ingredients and out of them create wonderful dishes. This Croque Monsieur is a timeless French classic and comfort food at its best. A great way to use up leftover ham or just an excuse to eat some more.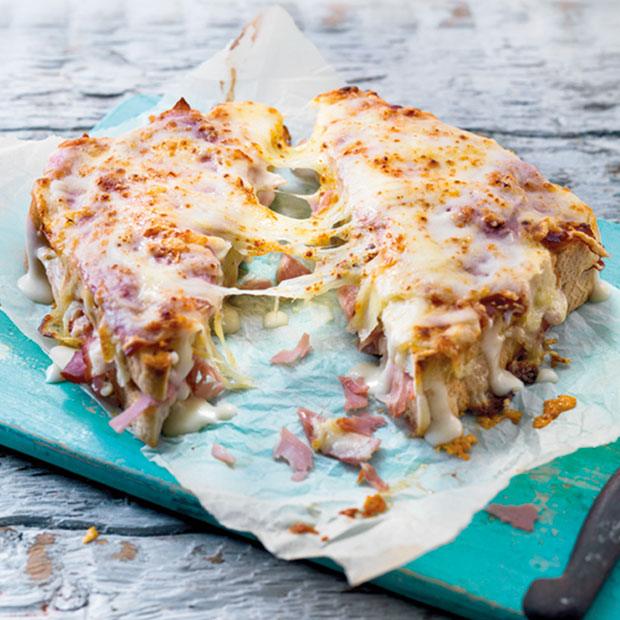 Directions
Step 1 Pre-heat oven to 180'C/160'C fan
Step 2 To make the Béchamel sauce melt the butter in a pan until just bubbling, then add the flour and stir and cook gently for 1 minute before adding the milk.
Step 3 Whisk whilst it comes to the boil and thickens, approximately 5 minutes. Once it has thickened remove from the heat and add the nutmeg and seasoning to taste. Allow to cool and chill before using for the next stage.
Step 4 Spread a layer of the chilled Béchamel sauce over one slice of bread, then place 2 slices of ham on top. Put another layer of Béchamel sauce on the ham slices and top with another slice of bread, then another slice of ham and lastly top with a generous layer of the Béchamel sauce.
Step 5 Make up your remaining 3 rounds of sandwiches in the same way so you have 4 in total.
Step 6 Place them on a baking tray and sprinkle the grated cheese over the tops. Bake in the pre-heated oven for 15 mins until gently golden brown on the top, cut into triangles and serve.