2 pork chops
Regular price
£0.00
Sale price
£10.95
Unit price
per
2 heads chicory, leaves separated
½ small red onion, finely sliced
100g Gorgonzola, crumbled
freshly ground black pepper
Dinner
GORGONZOLA PORK CHOPS WITH A CHICORY & WALNUT SALAD
These Gorgonzola Pork Chops with a Chicory & Walnut Salad make a beautifully balanced meal. The crunchy chicory salad cuts through the richness of the deliciously creamy Gorgonzola sauce accompanying the pork chops. An easy but magical supper dish.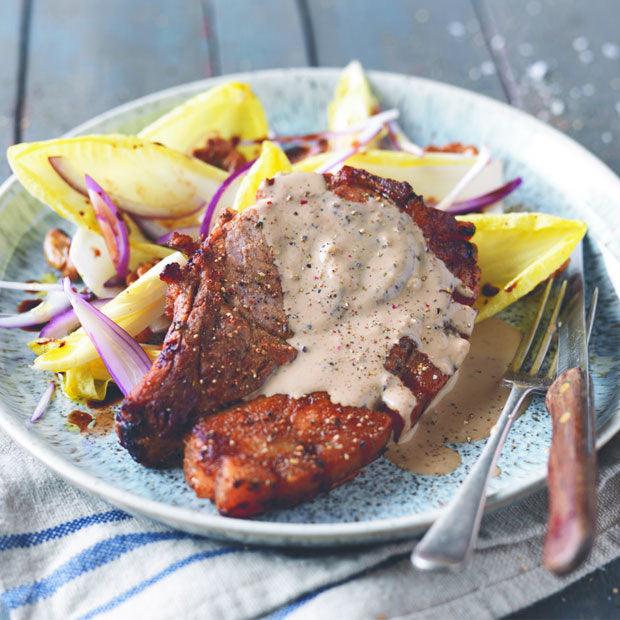 Directions
Step 1 Heat 10g butter in a heavy based frying pan over a medium heat and toast the walnut pieces for 2 mins. Remove to a plate.
Step 2 Season the pork chops with ¼ tsp sea salt and melt the remaining butter in the same pan. Brown the chops in the butter for 10-15 mins, turning halfway through to ensure they are thoroughly cooked. Remove to a warm plate.
Step 3 Meanwhile prepare the salad by blanching the green beans in boiling water for 3-4 minutes then refresh under cold running water. Mix the beans with the toasted walnuts, chicory leaves, balsamic vinegar, olive oil and red onion. Season the salad with ½ tsp sea salt and toss together to ensure everything is mixed.
Step 4 Add the crumbled Gorgonzola and crème fraiche to the buttery juices in the pan and heat until the cheese has melted, about 2-3 mins, stirring all the time.
Step 5 Serve the chops alongside the salad with the Gorgonzola sauce spooned over the chop and add a little freshly ground pepper.