1 DukesHill Ham Hock (or 300g ham) stripped and cut into chunks or shredded
Regular price
£0.00
Sale price
£4.50
Unit price
per
400g fresh beetroot, peeled and cut into wedges
freshly ground black pepper
250g waxy salad potatoes, halved if small or cut into 1" chunks
1 small fennel bulb, thinly sliced
½ small red onion, thinly sliced
1tbsp freshly grated horseradish (or 1 tbsp strong horseradish sauce)
finely grated zest and juice 1 orange
5g dill, stalks discarded and chopped
Lunch
HAM HOCK, BEETROOT & FENNEL SMØRREBRØD
On a recent trip to Copenhagen Sarah was so inspired by the food in general. The Danes have taken their cooking to a whole other level, inspired by their local produce and the seasons. Sarah particularly loved their Smørrebrød which to us is an open sandwich!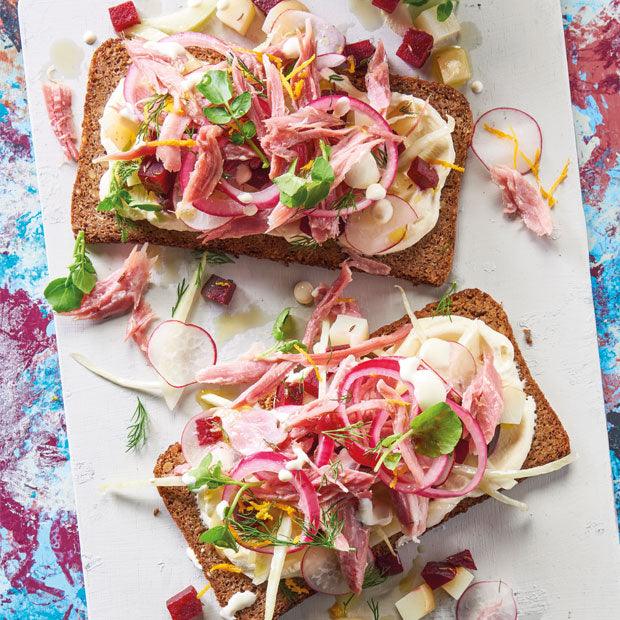 Directions
Step 1 Pre heat the oven to 200°C/180°C fan/gas mark 6.
Step 2 Place the wedges of beetroot in a roasting tray with the caraway seed, half the orange juice and olive oil.
Step 3 Sprinkle generously with salt and freshly ground black pepper. Toss to mix it all up then cover with foil and bake for approximately 40 minutes until tender.
Step 4 Meanwhile cook the potatoes in boiling salted water for 12 minutes until tender. Drain then when cool slice into thick slices.
Step 5 In a bowl mix the beetroot with the potato, fennel, radishes, ham hock, red onion, horseradish, remaining orange juice and vinegar.
Step 6 Mix together and adjust seasoning to taste. Fold through the crème fraiche and pile on top of the watercress.
Step 7 Garnish with the dill and orange zest and serve on slices of buttered rye bread.