1kg uncooked boneless Wiltshire (cut a half uncooked boneless in half) - if using the entire half then double up the other ingredients
Regular price
Sale price
£19.99
Unit price
per
6 peaches, halved around the middle and stoned
Dinner
HONEY GLAZED GAMMON & PEACHES
Our boneless uncooked half Wiltshire ham is the perfect size for a gathering or celebration. This recipe is such a lovely one to do in the summer when you can get ripe peaches (or nectarines). With it's sticky glaze and peaches it is absolutely delicious served alongside salads. The perfect al fresco meal requiring very little effort.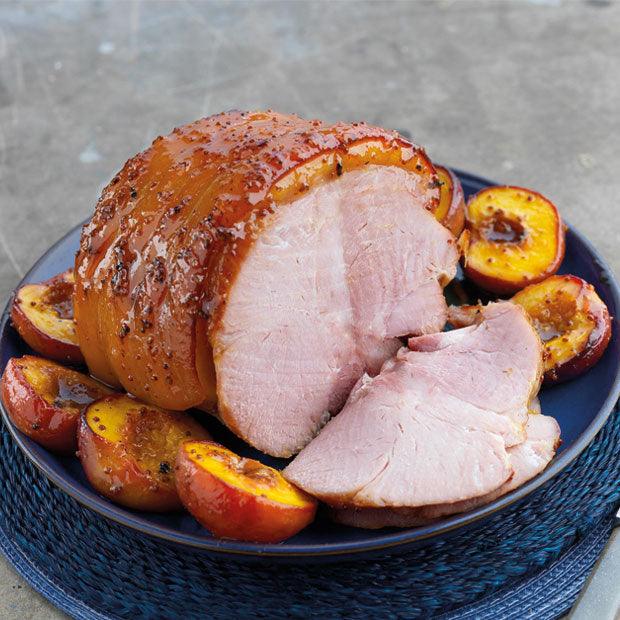 Directions
Step 1 Pre heat the oven to 200'C/180'C fan/gas mark 6.
Step 2 Put the uncooked ham in a large pot with the bay leaves, peppercorns, onion and star anise. Cover with water and bring to the boil. Simmer for 1 hour 40 minutes, turning once halfway through cooking.
Step 3 Meanwhile mix all the marinade ingredients together in a bowl.
Step 4 Remove the ham from the pan and remove the skin leaving a layer of fat. Criss cross the fat and put in a roasting tray along with the peaches. Pour over the marinade, coating the ham and turning the peaches over in the marinade to give all a good coating.
Step 5 Pop in the oven and bake for 20-25 minutes, basting the meat a couple of times with the marinade from the tin until it develops a crispy crust.
Step 6 Serve with the peaches alongside and salads.