1 DukesHill Whole Free Range Chicken
Regular price
£0.00
Sale price
£21.00
Unit price
per
½ green chilli, finely chopped
½ white onion, chopped finely
1 cucumber, deseeded, diced
1 small red onion, halved and sliced thinly
Dinner
INDIAN SPICED CHICKEN FLATBREADS
I absolutely love the informality of building your own meal. This recipe takes all the pressure off you if you are hosting as you can make all the accompaniments ahead of time and also leave the chicken marinating in the fridge overnight so all you'll need to do on the day is put the chicken in to cook for 45 minutes! So simple and so delicious. Add a finely chopped, whole green chilli to the chicken marinade if you prefer a bit more of a kick in your Indian food.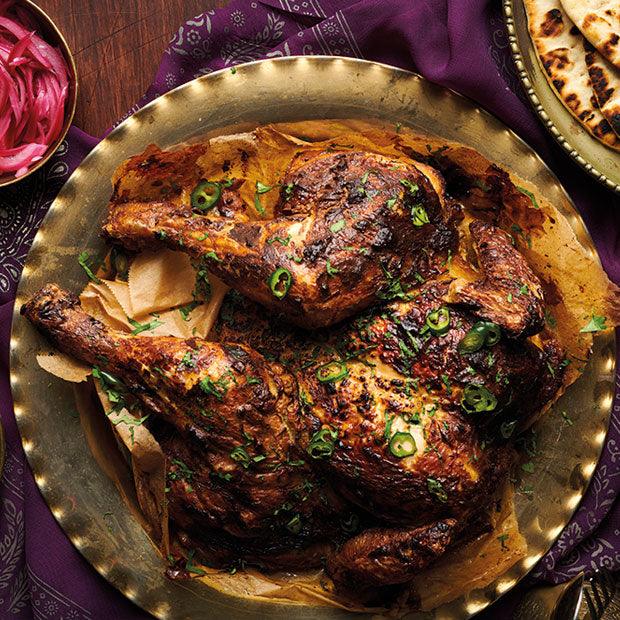 Directions
Step 1 Preheat oven 180°C/160°C fan/gas mark 4.
Step 2 You can make all the accompaniments to the chicken ahead of time and leave in the fridge until ready to eat.
Step 3 To spatchcock a chicken, flip it onto its back with the legs facing towards you. Feel along the spine of the chicken and use a pair of sharp kitchen scissors or a sharp knife to cut down either side of the central bone.
Step 4 Once you have removed this large bone, you can flip the chicken back onto its front and spread out the wings and legs and press down on the centre of the bird until it flattens. This cuts down cooking time and ensures a moist chicken at the end of cooking. (You can keep the large bone as it's perfect for making stock)
Step 5 Stir the marinade ingredients together in a bowl, once the mixture is combined you can spread it on the spatchcocked chicken and cover and leave to one side for approx. 30 mins, until the chicken is at room temperature.
Step 6 Cook the chicken in the oven for 45 mins – 1hr until the juices run clear when pricked with a knife, cover with foil and rest for 15 minutes once cooked.
Step 7 Slice and shred the chicken into bite sized pieces so people can create their own fillings for their flatbreads.
Step 8 Mix the salsa ingredients together and put in a small serving bowl.
Step 9 Mix all the ingredients for the yoghurt dip and serve in a bowl for sharing.
Step 10 Mix the red onion with the lime juice and put in another dish.
Step 11 Serve with the flatbreads and dig in!