1 whole uncooked Wiltshire Ham (if using cooked ham then go to step 5)
Regular price
£0.00
Sale price
£82.00
Unit price
per
10 star anise to decorate
Dinner
MAPLE GLAZED HAM WITH BAKED APPLES
A spectacular ham to serve at any time of the year. The marriage of slow cooked apple with a maple glazed ham infused with spices is simply delicious. You can do this using our 1.2kg Gammon Boiling Joint but just half the quantities and cook the gammon for 1 ¾ hours before glazing. Serves 6-8.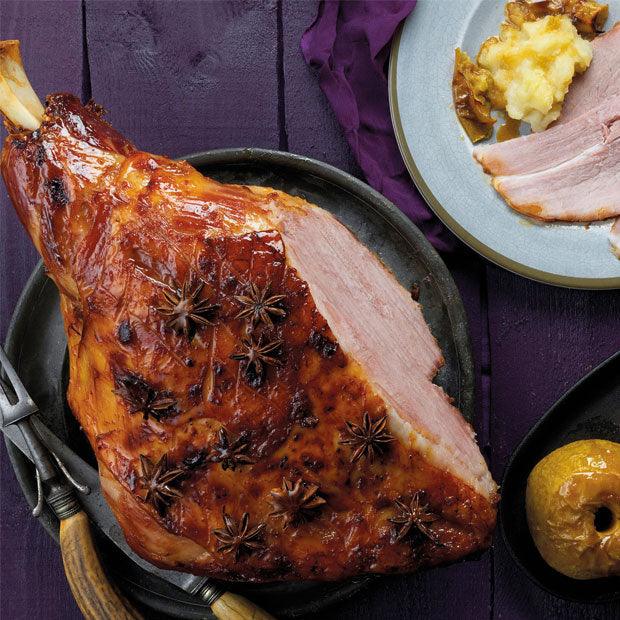 Directions
Step 1 Heat oven to 160'C/140'C fan/gas mark 3. Place the ham in a large, deep-sided roasting tin. Pour in the apple juice and top up with 400ml water.
Step 2 Add the spices, bay leaves and orange zest. Cover the ham tightly with foil, then bake for 5 hrs.
Step 3 Remove the ham from the oven and increase the temperature to 200'C/180'C fan/gas mark 6. Discard the juices, spices and herbs from the roasting tray
Step 4 Remove the skin from the ham being careful to leave a lovely fatty layer for glazing. Criss-cross the fat with a sharp knife to form a diamond pattern and return to the roasting tray.
Step 5 Core the apples leaving them whole and the skin on.
Step 6 Place the apples around the ham and brush the glaze over the ham. Decorate the ham with the star anise and pop in the oven uncovered for approx. 25 mins until the ham is golden and the apples soft and bursting.
Step 7 Serve slices of the glazed ham alongside a spoonful of the cooked apple pulp.
Recipe Note
Our Wiltshire cured hams do not need soaking prior to cooking.