250g DukesHill Pork Belly Confit
Regular price
Sale price
£19.99
Unit price
per
soy sauce, extra for seasoning
2 portions/nests ramen noodles
roasted black sesame seeds, for garnishing
2 ciabatta rolls1 litre chicken stock
1 tbsp soy sauce for broth
10g cornflour (boiling water can be added if it becomes too thick)
1 thumb sized piece fresh ginger, sliced for broth
1 red chilli, sliced for broth
2 spring onions, chopped (save some for garnishing
Dinner
PORK BELLY RAMEN
This dish is the ultimate comfort dish. The process itself is very simple but takes a bit of prep. It's one of our favourite ways to enjoy our delicious Pork Belly Confit, as it soaks up those Japanese flavour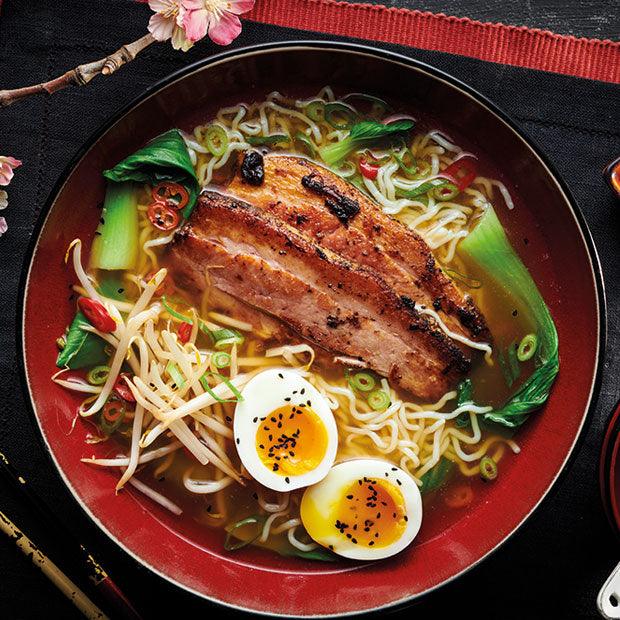 Directions
Step 1 Boil an egg for 5 minutes until it is soft boiled, move it to cold water to stop it cooking, deshell it once ready to eat and slice lengthways.
Step 2 Pour the stock ingredients into a wok or deep pan and bring to a simmer. The longer you allow the stock to simmer, the more flavour it will have.
Step 3 Cook the ramen noodles as per the pack instructions and place into the stock. Add the pak choi for some extra greens in your ramen.
Step 4 Heat a frying pan with sesame oil on a medium heat. Add the ginger and chilli and cook for 1 minute, then add the slices of pork Belly confit (remove any bay leaves from the fat) with the crushed garlic.
Step 5 Cook until the pork belly starts to crisp and caramelise, infusing with the pan ingredients. It should take 2 minutes on each side.
Step 6 To serve pour the stock and noodles into a bowl, slice the pork belly to put on top, along with the beansprouts and egg and scatter with a few more slices of spring onions and roasted black sesame seeds.