2 pork chops
Regular price
£0.00
Sale price
£10.95
Unit price
per
1 heaped tsp Dijon mustard
freshly ground black pepper
Dinner
PORK CHOPS WITH MACKEREL MAYO
Who'd have thought pork chops with mackerel mayo would work, but it so does! I have to credit the wonderful cooks Valentine Warner and Gill Meller for inspiring this recipe. I had the pleasure of seeing them cook some dishes on a fire pit at the Port Elliot Festival in Cornwall the same day as the Martini class I attended, so I may have fused several recipes together – the little grey cells were a little fuzzy! Either way this version is delicious too. Basically an English take on Maiale Tonnato.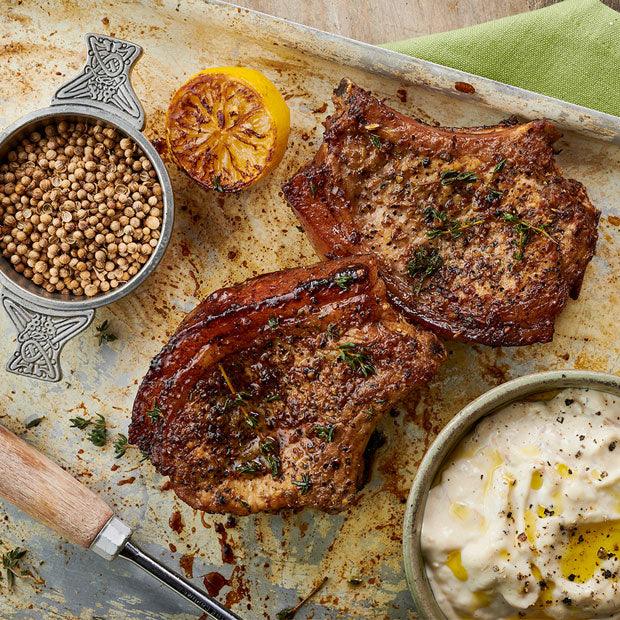 Directions
Step 1 Preheat oven to 190°c/170'C fan/ gas mark 5.
Step 2 Drizzle the gutted mackerel with a dash of olive oil, then bake for 10 minutes. Remove from baking tray and allow to cool.
Step 3 Put the chops into the same, fishy tray, sprinkle with a pinch of salt – especially the fat. Grind fennel and coriander in pestle & mortar and sprinkle onto the chops along with a good grind of black pepper. Bake for about 30 minutes – until preferably still just off-pink. Allow to rest for 5 minutes.
Step 4 Meanwhile make the mayonnaise in a food processor. Whisk the egg yolks, lemon juice, mustard, salt & black pepper. Slowly drizzle in the olive oil and the sunflower oil until fully emulsified.
Step 5 Skin the cooled mackerel and remove the flesh carefully from the bones. Flake the fish into the mayonnaise and mix in gently.
Step 6 Serve the pork chops with the fishy mayo dolloped alongside.