2 x 500g packs Dukeshill pork belly confit
Regular price
Sale price
£19.99
Unit price
per
1 onion, sliced into 4 thick rings
30g fresh root ginger, cut into matchsticks
200g Cavolo Nero, stalks removed, sliced into 2.5cm pieces
Dinner
PORK CONFIT IN SPICY COCONUT MILK WITH CAVOLO NERO
I absolutely love this way of using our Pork Belly Confit. Cooking it in this spicy coconut based sauce with Cavolo Nero to serve on a bed of noodles or rice makes a great supper dish to serve your family or friends.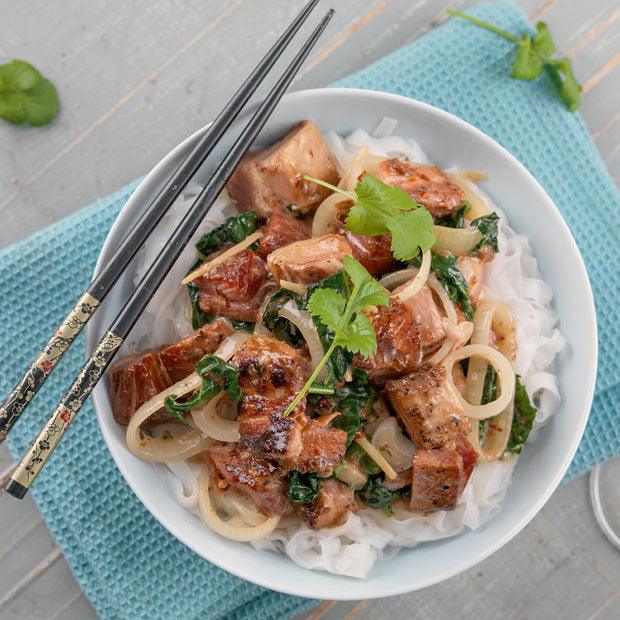 Directions
Step 1 Heat the oil in a large frying pan and sauté the onion and ginger over a medium heat for about 6 minutes until softened, then tip onto a plate and set aside.
Step 2 Meanwhile, slice and prepare the pork confit. Cut into 2.5cm chunks and add to the pan to brown on all sides, about 10 minutes in total.
Step 3 Return the onions and ginger to the pan, add the chilli flakes, fish sauce and coconut milk and simmer, uncovered, for 15 minutes until reduced by half.
Step 4 Season with plenty of black pepper, add the Cavolo Nero, cover and cook for 5 minutes.
Step 5 Serve with steamed rice or noodles.