500g pork belly confit, sliced thinly
Regular price
Sale price
£19.99
Unit price
per
1 red pepper, sliced thinly
300g thread fine noodles (ready to use)
40g peanuts, toasted and chopped
1 tbsp chopped coriander leaves
soy sauce to serve (optional)
Breakfast
PORK CONFIT PAD THAI
One of my favourite dishes is a classic Pad Thai. A traditional Thai street food Pad Thai is a stir-fry noodle dish quite often served with the addition of prawns or chicken but our Pork Confit Pad Thai version is my absolute favourite. A marriage made in heaven!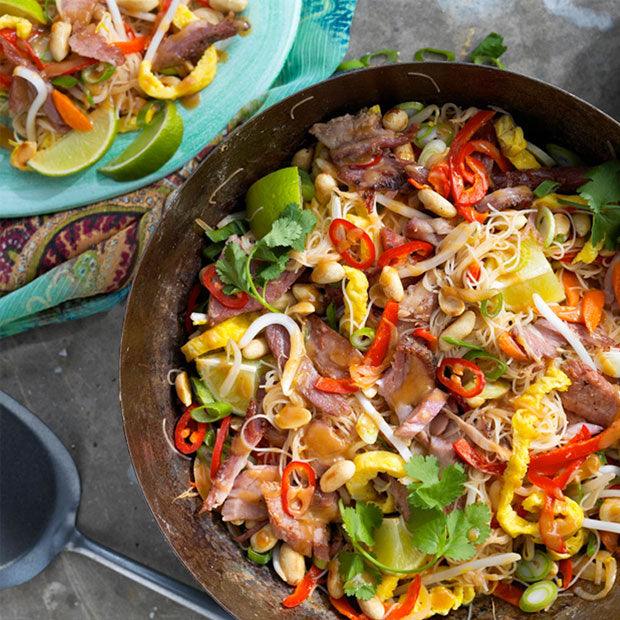 Directions
Step 1 Mix the sauce ingredients together in a bowl.
Step 2 Heat 1 tbsp oil in a large heavy based pan or wok over a high heat. Pour the whisked egg in and swirl to cover the base like a pancake. Cook for 1 minute until set. Remove and allow to cool before slicing into thin strips.
Step 3 Add the remaining 1 tbsp oil and add the garlic and onion, cook for 30 seconds.
Step 4 Add the pork confit, pepper and carrots and cook for 3 minutes.
Step 5 Add the bean sprouts, spring onions, noodles and the sauce. Toss gently for about 2 minutes.
Step 6 Serve immediately, sprinkled with the toasted peanuts, strips of egg pancake and the coriander. Squeeze over the lime juice to taste before eating. Add soy sauce if required.