2 x DukesHill Pork Belly Confit
Regular price
Sale price
£19.99
Unit price
per
2 tbsp Cranberry Sauce with Port
1/2 red cabbage, finely shredded
Regular price
£0.00
Sale price
£9.25
Unit price
per
1 whole celeriac (approx 600g), peeled and diced
2 ripe pears, peeled and diced
1/2 red onion, finely sliced
1 Bramley apple, peeled and sliced
1/2" fresh root ginger, peeled and grated
250-300ml vegetable stock
Dinner
PORK CONFIT WITH CELERIAC & PEAR MASH AND BRAISED RED CABBAGE
Apparently Chateaubriand is a recipe, not a cut of meat. It was named after Chateaubriand who was a French writer and politician from the 18th C whose chef is thought to have created the recipe consisting of a centre cut from the beef tenderloin, grilled and served with béarnaise sauce (a white wine and tarragon based sauce) and chateau potatoes. Here I have roasted our Chateaubriand and used the same pan to make a delicious red wine jus with thyme and optional black truffle. Either way with a Bearnaise Sauce or a Pan Jus it is equally delicious and utterly decadent.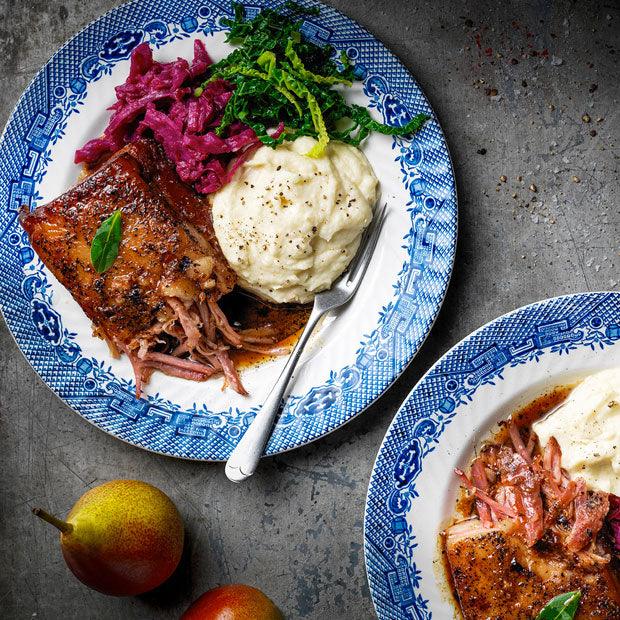 Directions
Step 1 Start the braised cabbage by melting the butter in a heavy based saucepan. Add the onion, ginger, apple and cabbage and gently sauté for a few minutes, then add the allspice and cook for a further minute before pouring in the stock.
Step 2 Leave to gently simmer with a lid on for 30 mins. Add more liquid if necessary to prevent drying out.
Step 3 Pop the pork belly confit uncovered on a baking tray and roast at 190'C fan for 20-30 mins until nicely golden.
Step 4 Meanwhile bring the celeriac and potato to the boil and simmer for 10 mins. Add the pear and simmer for a further 10 mins.
Step 5 Stir in the cranberry sauce and seasoning into the red cabbage mixture and continue to cook for 10 mins.
Step 6 Drain the celeriac, potato and pears and add the crème fraîche, salt, pepper and butter to the pan. Mash or if preferred put through a mouli or potato ricer to get a really smooth consistency.
Step 7 Slice the confit (2-3 servings per confit) or shred and serve with the mash and cabbage alongside.