1.75 kg boneless rolled shoulder of pork
2 onions, peeled and cut into thin wedges
2 garlic cloves, peeled and sliced
10 fresh sage leaves, chopped
Dinner
POT ROAST PORK WITH CIDER, SAGE AND MAPLE SYRUP
This Pot Roast Pork with Cider, Sage and Maple Syrup using our boneless rolled shoulder of pork is a slow cook dish. Perfect for those lazy Sundays when you want to pop something in the oven to return to after a bracing walk!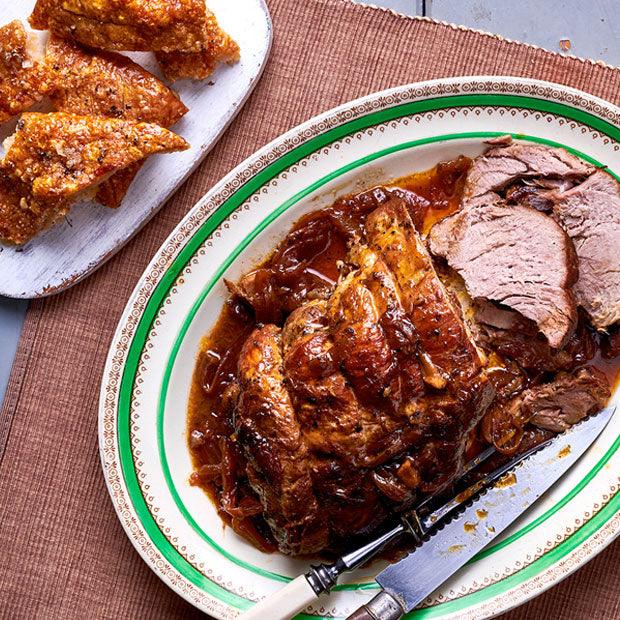 Directions
Step 1 Preheat oven to 180'C/160C fan/ gas mark 4.
Step 2 Cut the string from the pork. Remove the rind and fat, putting aside into a small roasting tray.
Step 3 Re-tie the joint using kitchen and season generously with some of the sea salt. Heat the oil in a casserole dish over a medium to high heat. Cook the pork, turning, for 6-8 minutes until brown all over and transfer to a plate.
Step 4 Add the onion and garlic to the casserole and cook for 3-5 minutes until soft. Add the sage and fennel to the pan and cook for a further 2 minutes. Pop the pork back in the casserole pot and pour the maple syrup, stock and cider over the top. Bring to the boil and pop the lid on the casserole before transferring to the oven for 3 ½ hours, basting once during cooking.
Step 5 After 2 hours sprinkle the rind with the rest of the sea salt and pop in the same oven at the top.
Step 6 Remove the pork and keep warm. Skim as much fat as you can from the juices left in the pot before adding the cider vinegar. Heat over a medium high heat for 5-10 minutes until the liquid is reduced to a sauce.
Step 7 As soon as the cheese starts to melt add ¼ of the pulled pork and a large spoonful of the black bean mixture over each slice. Put the next 4 slices of toast on top (toasted side down) and press down with a spatula. Very carefully turn over and cook for 1 minute.
Step 8 Serve the pork in slices, which should be extremely tender and almost falling apart, with a piece of the crackled rind alongside. Delicious served with creamy mash, green vegetables and a parsnip and apple purée, made by boiling parsnips and eating apples together in a little water for 15 mins before mashing and seasoning to taste.