2kg DukesHill Leg of Lamb, room temperature
Regular price
Sale price
£19.99
Unit price
per
1tbsp fresh rosemary, chopped
1 tbsp freshly ground black pepper
2 cloves of garlic, sliced
1kg waxy potatoes, sliced thinly
2 cloves of garlic, crushed
10g fresh mint, finely chopped
3 tbsp white wine vinegar
Dinner
ROAST LEG OF LAMB WITH CREAMY DAUPHINOISE & MINT SAUCE
You really can't beat a traditional lamb roast for a Sunday lunch or just as a special dinner dish. One of my all-time favourite sides to go with lamb is a creamy, unctuous potato dauphinoise. It's so simple yet so indulgent and can even be made ahead and reheated – trust me it tastes just as good! To cut through these rich flavours, you can't go wrong with a homemade mint sauce. It's so quick to make and makes all the difference to lift all those traditional flavours to new heights.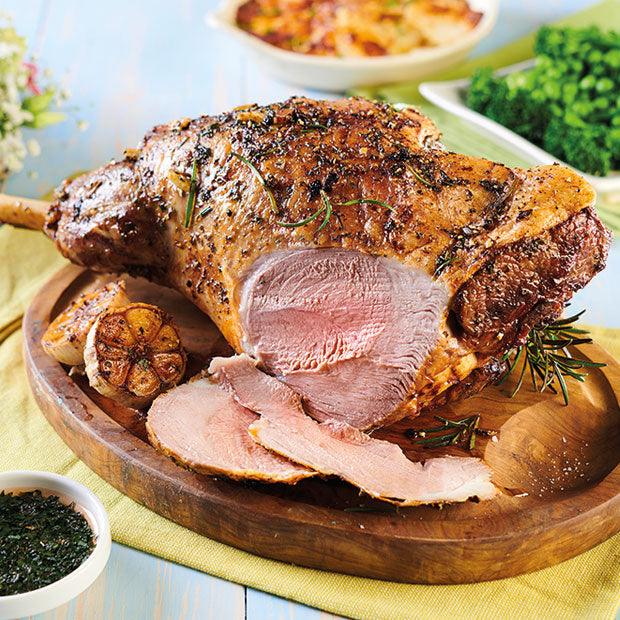 Directions
Step 1 Preheat oven to 200°c/180°c fan/gas mark 6.
Step 2 Cut incisions into the shank end of the leg and place slivers of garlic into these incisions.
Step 3 Mix the rosemary, salt and pepper into the melted butter and coat the lamb all over as evenly as possible.
Step 4 Place the lamb in a roasting tin and roast for 1 ¾ - 2 hours until cooked. Remove from the oven and cover with foil to rest for at least 15 minutes.
Step 5 Place the cream and milk into a large saucepan on a low-medium heat with the crushed garlic and a small grating of nutmeg.
Step 6 Bring up to the boil. Lower the heat and season with salt and pepper.
Step 7 Add the potato slices into the saucepan and simmer for 10 minutes until softened but not cooked completely.
Step 8 Generously grease a baking dish with the butter. Spoon the potatoes into the baking dish and pour the cream mixture on top until just covering the potatoes.
Step 9 Cover the dish with foil and bake for 30 minutes. Lower the oven temperature to 160c fan.
Step 10 Remove the foil from the potatoes and sprinkle the comté on top.
Step 11 Bake for a further 15-20 minutes uncovered until cheese is golden and bubbling.
Step 12 To make the mint sauce finely chop the mint and put in a bowl with the rest of the sauce ingredients and mix until the right consistency. Add more water if necessary.
Step 13 Serve with spring vegetables.