100g streaky bacon, chopped into 1cm strips
Regular price
£0.00
Sale price
£7.50
Unit price
per
1.75kg rolled shoulder of pork
4 apples, with a 1 cm deep cut around the equator, this will stop them bursting and losing their shape when roasted
Dinner
ROAST PORK WITH APPLES & CIDER
My Pork with Apples & Cider recipe using our rolled shoulder of pork is an absolute winner. This roast is perfect for a gathering of family and friends. Once prepared you can just pop in the oven and enjoy the company instead. I have never understood why pork is the least favourite meat to roast. It's my favourite when it is cooked in a way that doesn't dry the pork out. With this recipe you will end up with the most delectable and moist pork. The resulting jus in the bottom of the roasting tray is absolutely delicious. When we were photographing this our studio team swooped on the tray with big hunks of bread to soak up all the delicious juices – heaven!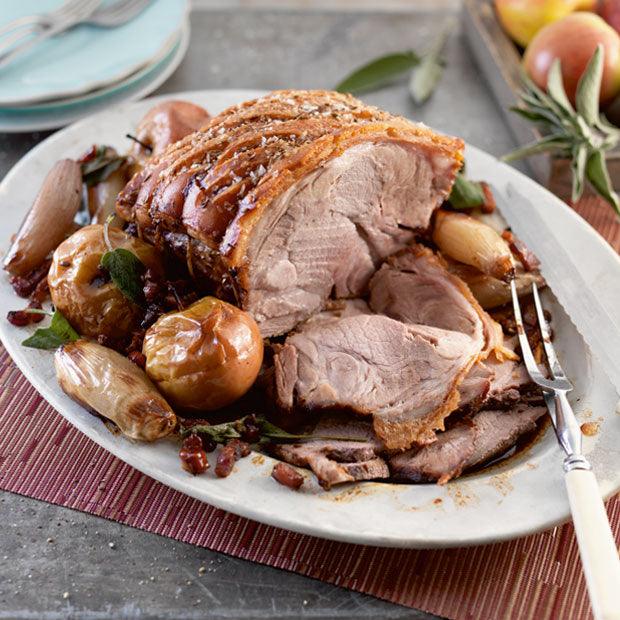 Directions
Step 1 Preheat the oven to 250°C/230°C fan.
Step 2 One hour before cooking remove the pork from its packaging and rub dry with kitchen roll. Cake the rind in a layer of table salt. Leave for one hour minimum then brush the salt off.
Step 3 Rub the rind with the sea salt flakes and fennel seeds, pushing both into the scoured cracks.
Step 4 Roast the pork for 35 minutes, until the crackling is golden and bubbled. Remove from oven and lower the temperature to 170'C/150'C fan. Leave the oven door open for a minute to help the heat drop down.
Step 5 Put the diced pancetta, whole shallots, apples and sage leaves in another roasting tray or heavy based, deep sided casserole pot. Pour over the cider and then place the pork over the top of the apples and onions, using them as a trivet.
Step 6 Pop back in the oven and roast the pork for approximately 2 hours at the lower temperature, until the onions and apples have softened, and you have a sweet porky jus at the bottom of the pot.
Step 7 Serve slices of the pork, with some apple, the pancetta and shallots and the delicious juices over a cannellini bean puree or mashed potatoes with some greens.