1 DukesHill free range duck, room temperature
2 spring onions, thinly sliced
Black sesame seeds, for garnish
3 large oranges, juiced and zest of 1
2 inches of ginger, grated
Dinner
STICKY ORANGE DUCK
This recipe is so simple but such a delicious meal that looks like you've put a lot of effort into. It's inspired by a classic French Bigarade sauce and Chinese orange chicken. A real crowd pleaser and a brilliant way to create your own Chinese fake-away.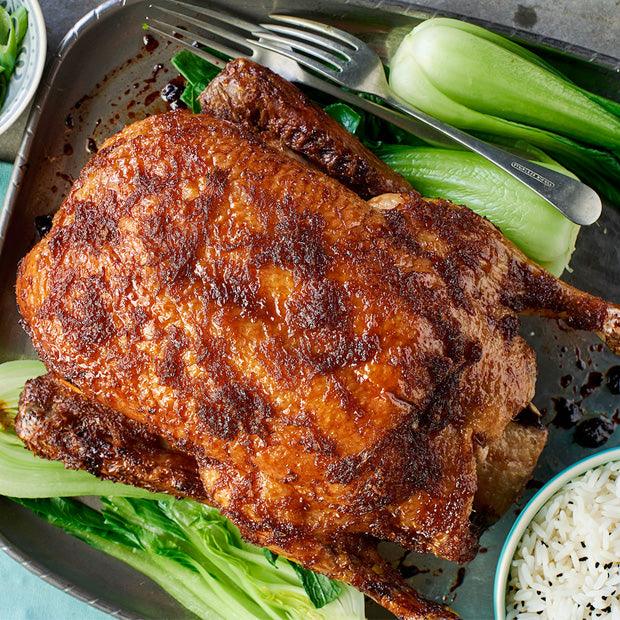 Directions
Step 1 Preheat oven to 160 fan.
Step 2 Pat the duck dry with paper towels. Prick the skin of the duck all over, try not to penetrate the meat though.
Step 3 Heat up the glaze in a saucepan over a moderate heat and allow to simmer until it becomes a syrupy consistency. You want it to be thick enough to cling onto the duck.
Step 4 Place duck in oven for 1hr 20 minutes, cover with foil after 1hr if the duck glaze is getting too dark.
Step 5 Cook gently until the leeks begin to wilt and brown slightly. Add more olive oil if they are sticking to the pan. Add the garlic.
Step 6 Place the chicken legs back into the frying pan, skin side up.
Step 7 Whilst duck is resting, boil the rice for 15-20 min and pak choi for 3 min.
Step 8 Serve with a sprinkling of the sliced spring onions and black sesame seeds.