200g ham hock or cooked ham, shredded
Regular price
£0.00
Sale price
£4.50
Unit price
per
1 ½ tbsp English mustard powder
4 tsp Worcestershire sauce
200g strong cheddar, grated
freshly ground black pepper
Dinner
WELSH RAREBIT MACARONI CHEESE WITH HAM
An absolute classic Welsh rarebit is too good to consign to a toast topping so here I have created my version – Welsh Rarebit Macaroni Cheese with Ham. It works so well with our delicious ham hock or leftover ham to create a comfort dish sure to please all the family.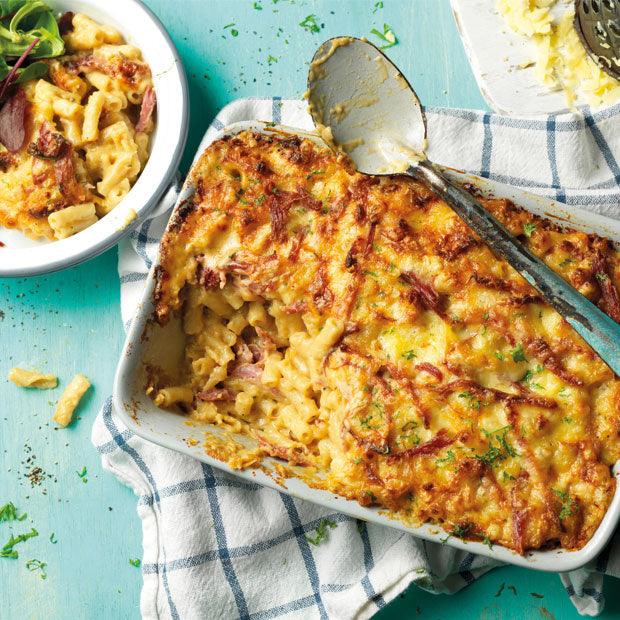 Directions
Step 1 Pre-heat oven to 220'C/200'C fan.
Step 2 Bring the ale and milk to a simmer in a pan with the onion, garlic, bay leaves, nutmeg and cloves. Remove from the heat and allow to infuse for 30 minutes. Sieve and discard the onion, garlic, spices and herbs.
Step 3 Cook the macaroni according to the instructions (approx. 8 mins), drain and toss in the olive oil.
Step 4 Melt the butter and stir in the flour and mustard powder. Cook over a medium heat for a minute. Gradually add the infused milk and ale, then the Worcestershire sauce whilst whisking continuously. Continue cooking for approx. 8 mins until the sauce thickens.
Step 5 Stir in 100g grated cheese and stir until melted, then add the seasoning to taste. Add the egg yolks stirring all the time. Lastly stir through the ham and pasta and transfer to a buttered baking dish.
Step 6 Top with the remaining cheese and put in the oven for approx. 20 minutes until the top is browned and bubbling.